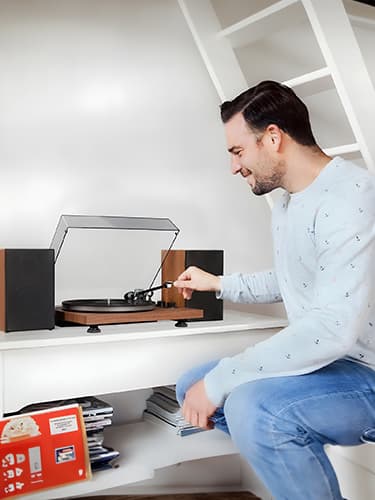 Process of Sharing Your Stories
Come check Retrolife Fans Stories We Have Collected
Handlebars: invalid url input
from Joy
He likes to listen to old music, holding a lyrics book, turning vinyl records on the record player, and slowly savoring the charm of music. He often goes to some music bars or cafes to enjoy these precious records with my friends and share the joy of music. Although this hobby requires a certain amount of capital investment, he thinks it is worth it, because vinyl records are not only a cultural heritage, but also the history and inheritance of music.
Handlebars: invalid url input
from Jamie
There was a young woman who had a lovely pet dog. She loves vinyl music, plays the piano in her spare time, and collects vinyl records. One day, she found that her pet dog also likes to listen to vinyl music, so she started to play the music so that the pet dog can share her hobbies together. She finds that the pet dog is quieter when she reads and gently wags its tail to the rhythm of the music, which makes her very happy. From then on, she decided to combine vinyl music with pet dog hobbies to make life more fun.
Handlebars: invalid url input
from Lisa
She is a woman who loves vinyl and has been full of love for music since she was a child. When she grew up, she decided to devote all her hobbies to vinyl collections. She spent a lot of time and energy collecting vinyl of all types, from pop to classical, from rock to jazz, each with its own unique charm. Her favorite in her collection is an old record that she listened to as a child and that she has kept very well. In her view, vinyl is not only a form of music, but also a record of cultural heritage and history. Her collection not only satisfies her, but also amazes and envies her friends. She has always firmly believed that vinyl music is one of the best forms of music, because it records the sound of history, allowing people to feel the passage of time and the precipitation of time.
Handlebars: invalid url input
from Isabella
She's a cat girl who loves vinyl records. Whenever she heard the sound of the vinyl record player turning, she would feel an indescribable warmth and romance. She likes to put the record player in the corner of the room and listen to the music gently swaying, as if going back in time, making her feel the good old days. She also likes to collect vinyl records in different colors, each disc has its own unique flavor and meaning. She believes that vinyl records are not only a form of music, but also a way of life and attitude, allowing people to calm down in a fast-paced life and enjoy the beauty of a slow pace.
Handlebars: invalid url input
from Ben
Taylor is a boy with a high degree of education, he has excellent academic performance and a wide range of hobbies. Among them, his favorite is collecting vinyl records. He regularly visits record stores or buys online to collect his favorite records. Whenever he receives a new record, his mood becomes very happy. He will use a special player to play these records, and when listening to music, he will deliberately wear his favorite clothes to achieve the best music enjoyment. Although his collecting hobby cost a lot of money, he thinks it is worth it because vinyl records bring him an unparalleled musical experience.
Handlebars: invalid url input
from Lauren
The girl Rebecca fell in love with vinyl since she was a child under the influence of her parents' music. Whenever her parents played classical music or jazz, Rebecca would run into their room and listen. She likes the mellow voice and melodious melody very much, and gradually, she began to have a strong interest in vinyl records.
As she got older, Rebecca gradually began to collect vinyl records in various styles, and her parents were also very supportive of her hobby. Whenever Rebecca finds a good record, she is excited to share it with her family and enjoy it together.
Handlebars: invalid url input
from Peter
They met on their quest for vinyl records. The boy is a record collector, the girl is a music lover. They first meet at a vinyl record exhibition, where the boy shows the girl his rare record collection and the girl shows the boy the music she likes to listen to. They communicated with each other and found that they both had a strong interest in vinyl records. Since then, they have often gone to record stores together to find new works and share their preferences. Their love gradually heated up with the company of vinyl records.
Handlebars: invalid url input
from Chloe
As a music teacher, she enjoys collecting vinyl records. Every time she finds a good vinyl, she will carefully take it out and play it on a professional record player. She likes listening to the sound of the record player turning, and even more like listening to the singing on the vinyl record, as if going back in time and bringing her back to the past. These precious vinyl records not only represent his preferences, but also represent his love for music.
Handlebars: invalid url input
from Julie
As a young musician, she loved collecting vinyl records. Whenever she gets a favorite record, she will feel extremely excited. These records not only represent her hobby of collecting, but also the source of her inspiration. She will listen to these records repeatedly, looking for creative inspiration from them, and constantly improving her musical level. She believes that vinyl records will remain a treasure sought after by music lovers in the future, because they represent the history and cultural heritage of music.
Handlebars: invalid url input
from Diana
The couple have long been avid lovers of vinyl records, and they often scour for rare records, collecting many rare editions. Over time, they have become renowned vinyl collectors, and their collections are astounding in both quantity and quality. They shared their collections, opened a small museum, and attracted many people to visit. Today, they are well-known names in the industry, and their collections are sought after by vinyl fans.
Handlebars: invalid url input
from Timon
The couple loves vinyl music, and they regard precious vinyl records as important items of family inheritance. They decided to pass on these cultural heritages to the next generation in order to pass on the family tradition and love. So they cleaned some precious vinyl records, carefully packed them, and tied them with red ribbons. They give these records to children as gifts on their children's birthdays, and tell them the meaning and value of these records. The child was very moved and deeply felt the love and concern of his parents for him. Since then, children have often listened to these vinyl records, felt the unique charm of vinyl music, and fell in love with this ancient cultural heritage.
Handlebars: invalid url input
from Sophia
Alice, a young girl, loves music. She often scours records to find new music works. One day, she finds a rare record at a used record store, an album of folk songs from long ago that is very dear to her. She spent all her savings on the record and treasured it ever since. Since then, she has often gone to second-hand record stores to search for records, hoping to find more treasures. She believes that each record has a unique sound and story waiting to be discovered.
Handlebars: invalid url input
from Kate
There is a young girl who loves reading and vinyl. Whenever she finishes a good book, she places the bookmarks on beautiful vinyl records and stores them in the record player. She loves it because books and vinyl are such a big part of her life.
By chance, she met a friend who also likes reading and vinyl records. They shared their interests and hobbies together, and learned and communicated with each other. Since then, her life has become more colorful, and she has a deeper understanding of the charm of books and vinyl.
Handlebars: invalid url input
from Lilia
Michelle is a music lover. He found a group called "Vinyl Community" on the Internet, which is full of people who like to collect and play vinyl records. Xiao Ming was very interested, joined the group, and soon became good friends with like-minded people in the group. They exchange music collections and performance skills, share each other's preferences and experiences, and hold small concerts in the group to better display and appreciate each other's works. Xiao Ming is very happy. He feels that this community has allowed him to find a group of like-minded partners, and it has also allowed him to better express and pass on his love for music.
Handlebars: invalid url input
from Anna
A girl born in a family of vinyl lovers, she grew up listening to her father's vinyl records. She likes to listen to music with her father, and gradually, she also became obsessed with the texture and sound of vinyl records. Whenever she hears those melodious melodies, she can always feel a unique atmosphere and mood.
As time goes by, the girl gradually grows into a young man who loves music. She decided to turn her attention to vinyl records and began collecting classic records of all genres. She is always excited and proud whenever she receives a new vinyl record.
Handlebars: invalid url input
from Josefina
Sara, a fresh graduate, decides to travel around with her cherished vinyl record player. During the journey, she heard various kinds of music and experienced different cultures and styles. Sometimes she listened to folk singers in small bars, and sometimes she listened to piano music in a B&B. She found that the music played on the vinyl record player made her more integrated into the local life and made her travels more meaningful.
Consider Our Rebate Program!
If you are a Retrolife's customer, you may also have more opportunities to win commissions.
Retrolife owners who have purchased products from retrolifeplayer.com within 12 months and identify with Retrolife are eligible to participate in the UGC Incentive Campaign!