Modern Bluetooth Clear Acrylic Turntable RetroLife ICE1
An eye-catching ICE1 clear acrylic turntable for your vinyl music system that people love for its unique look and superior sound quality. You can see the wonderful mystery of the internal mechanical structure with its full transparent shell. Bluetooth Output, Manual Belt Driven System, 2-Speed: 33 1/3 & 45 RPM, Pre-installed ATN3600L MM Stylus, RCA Output.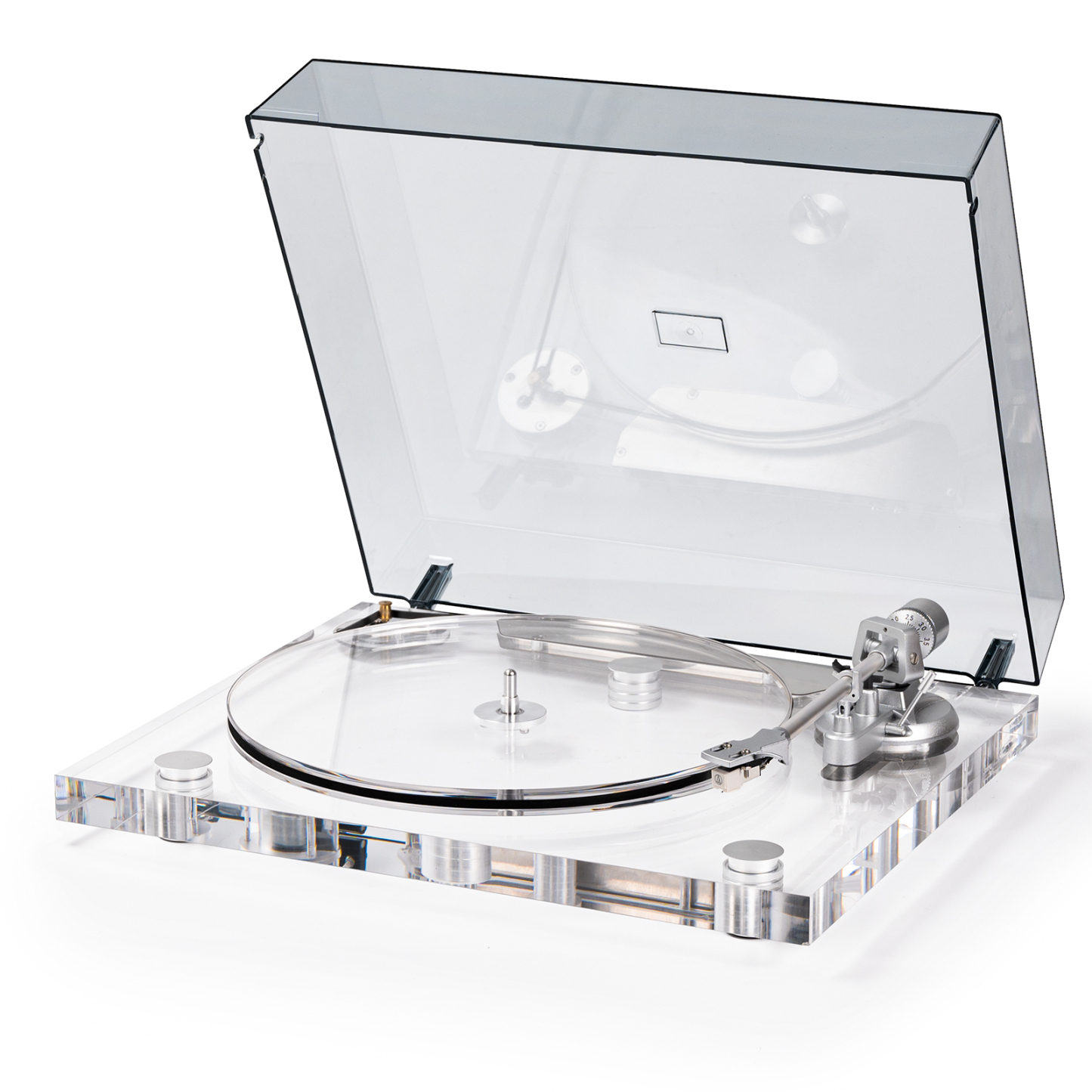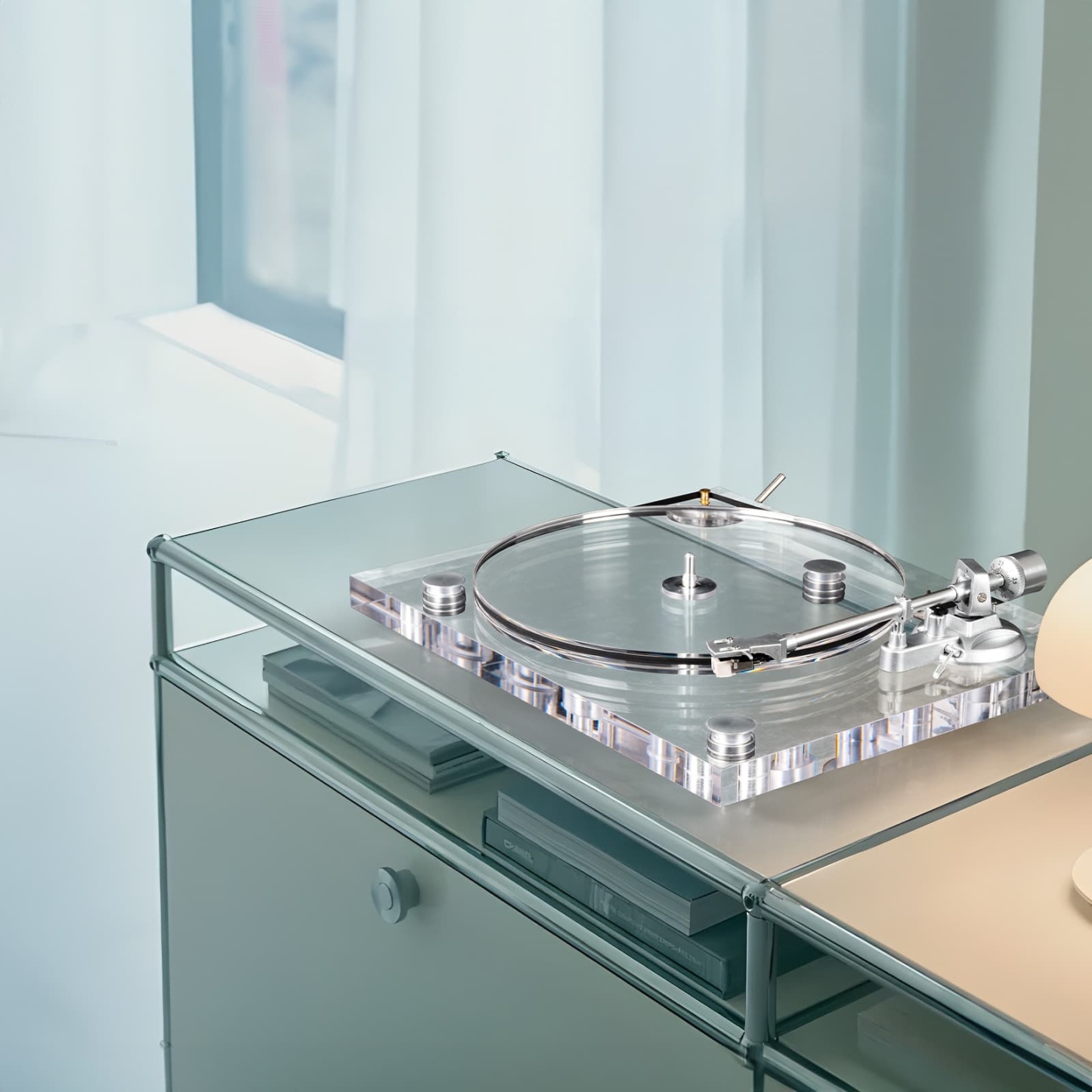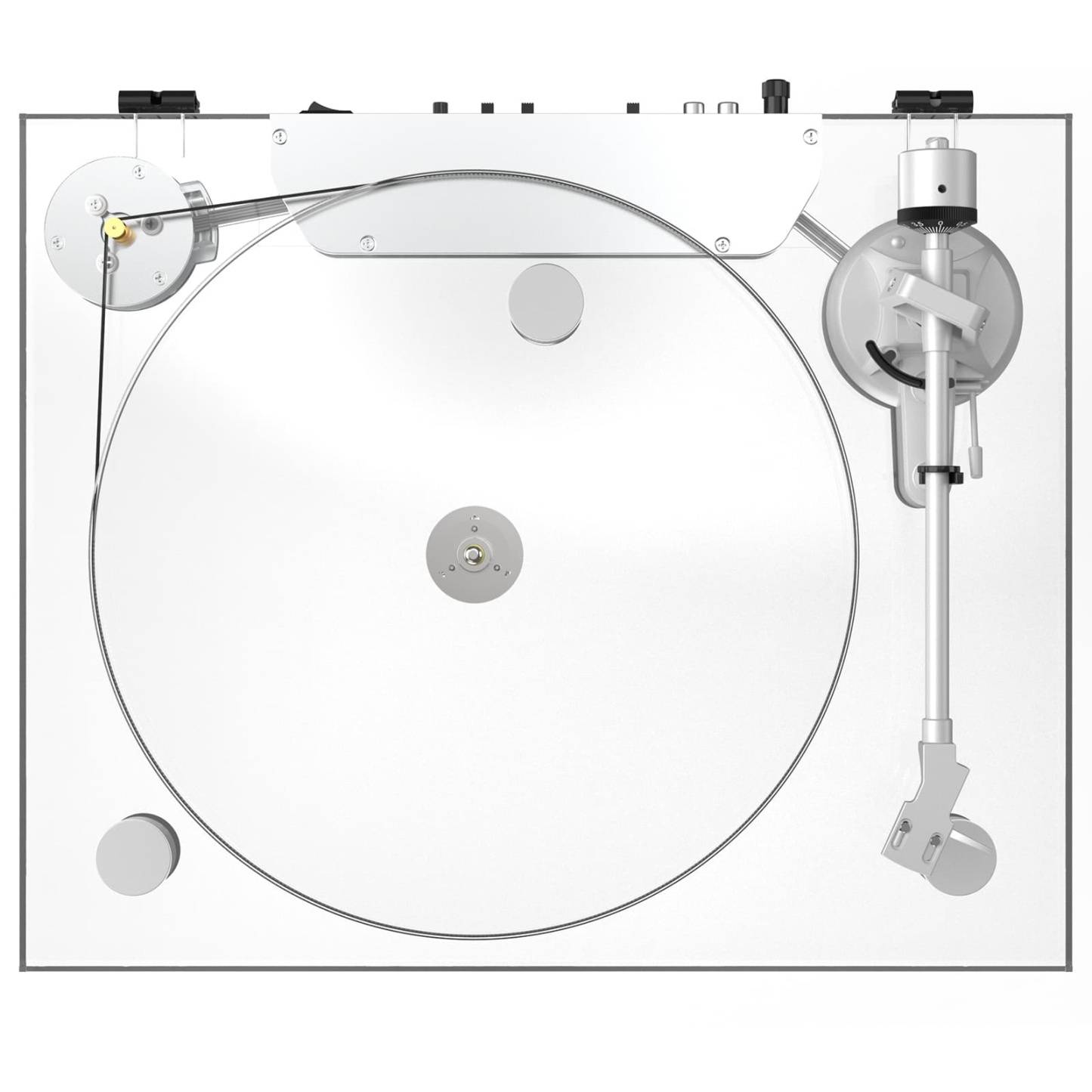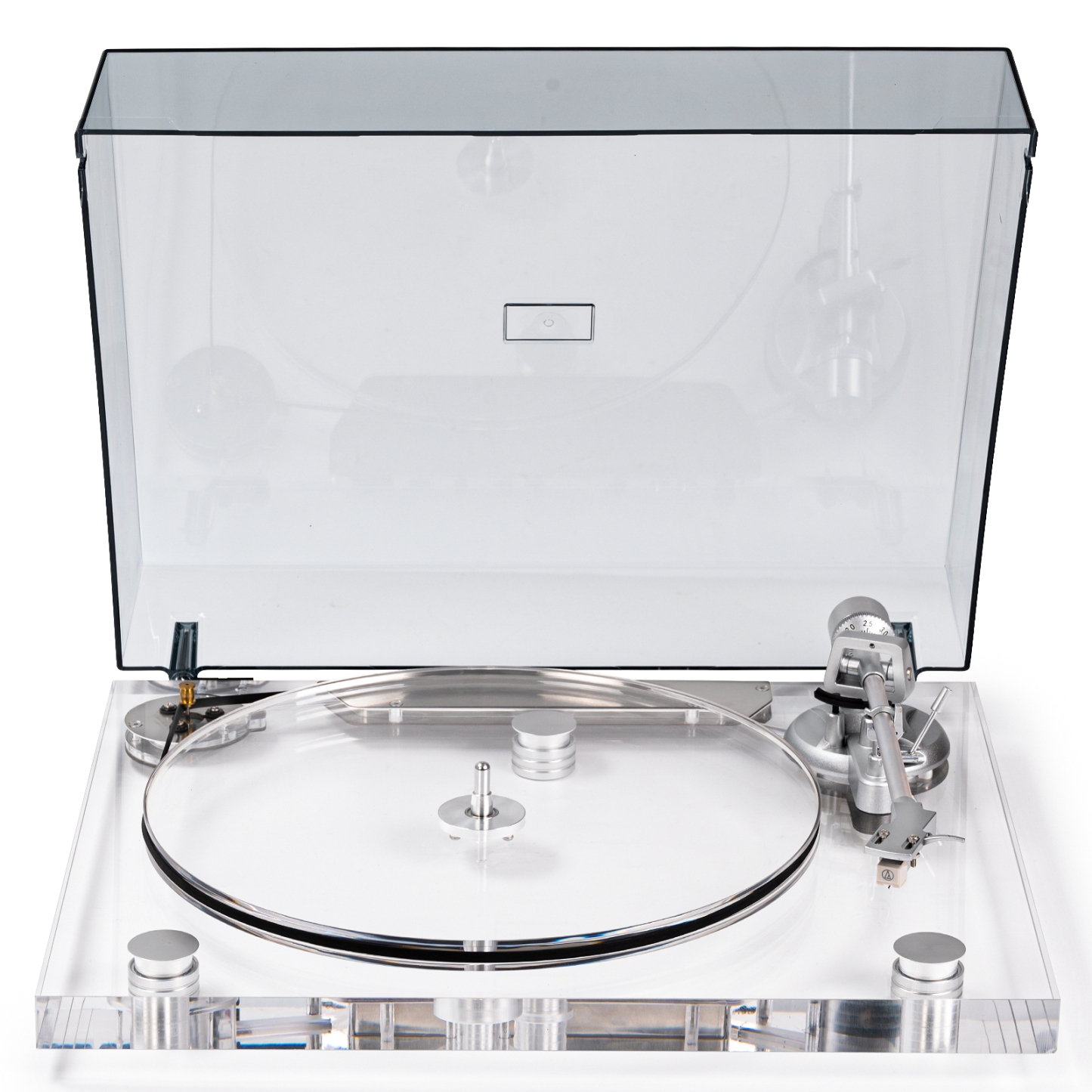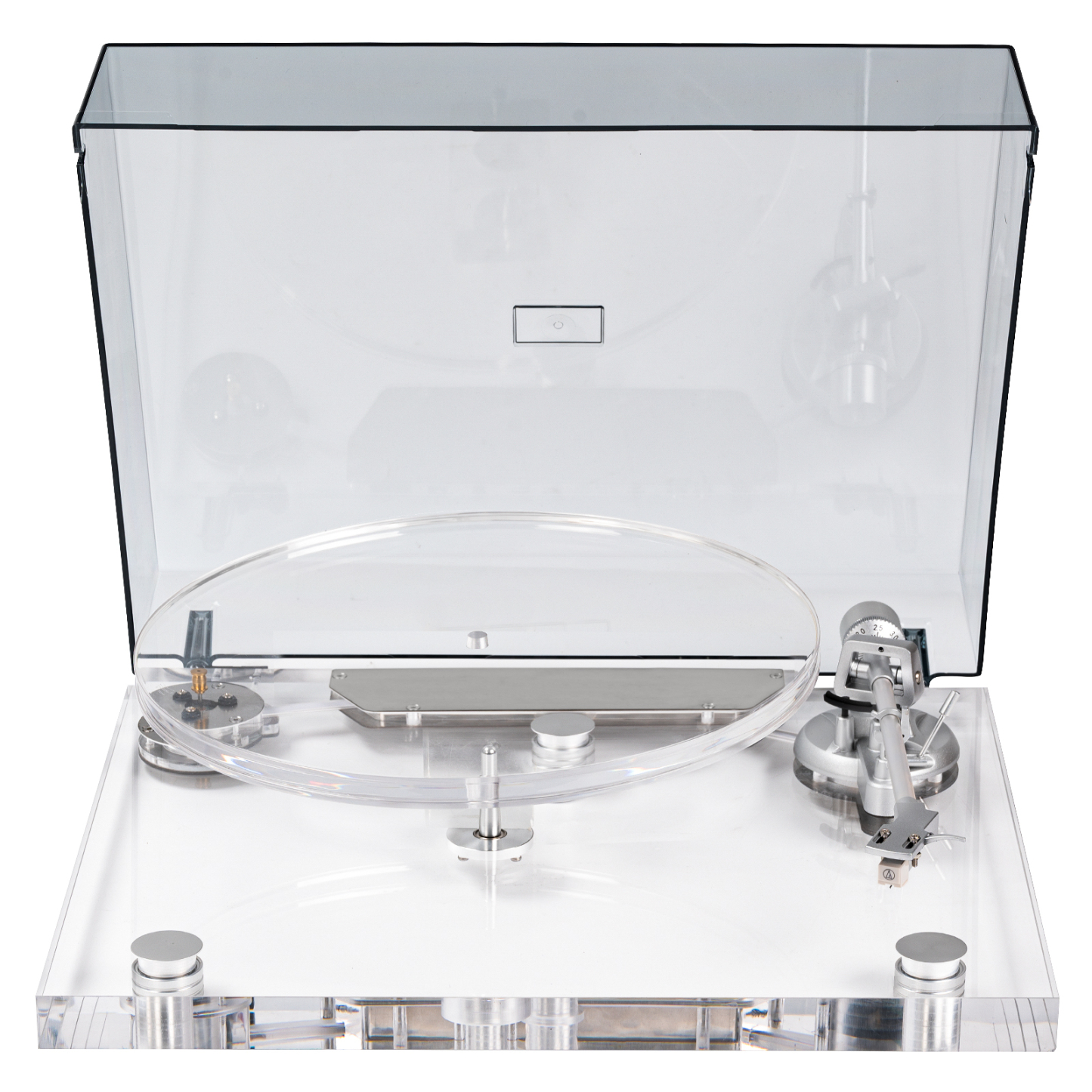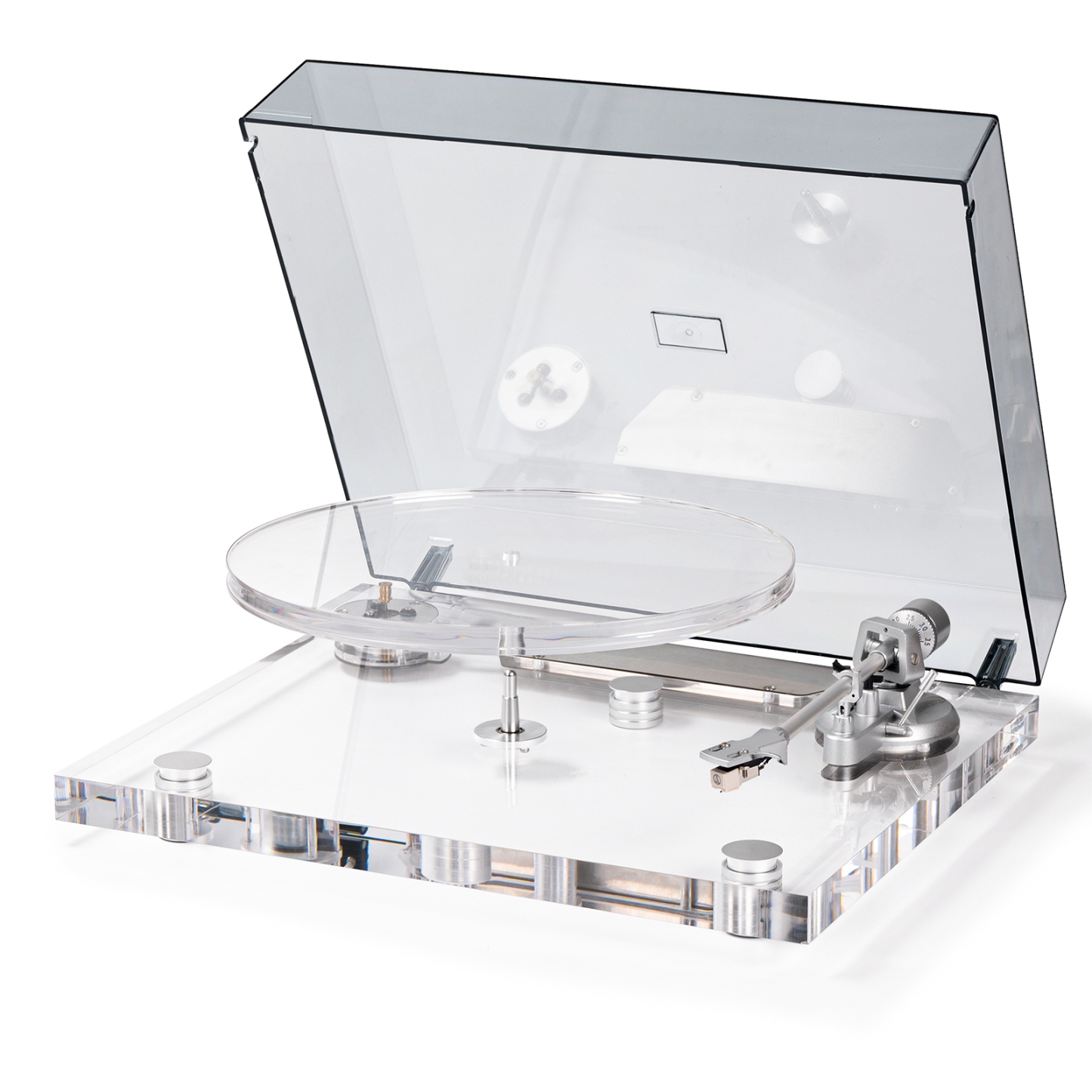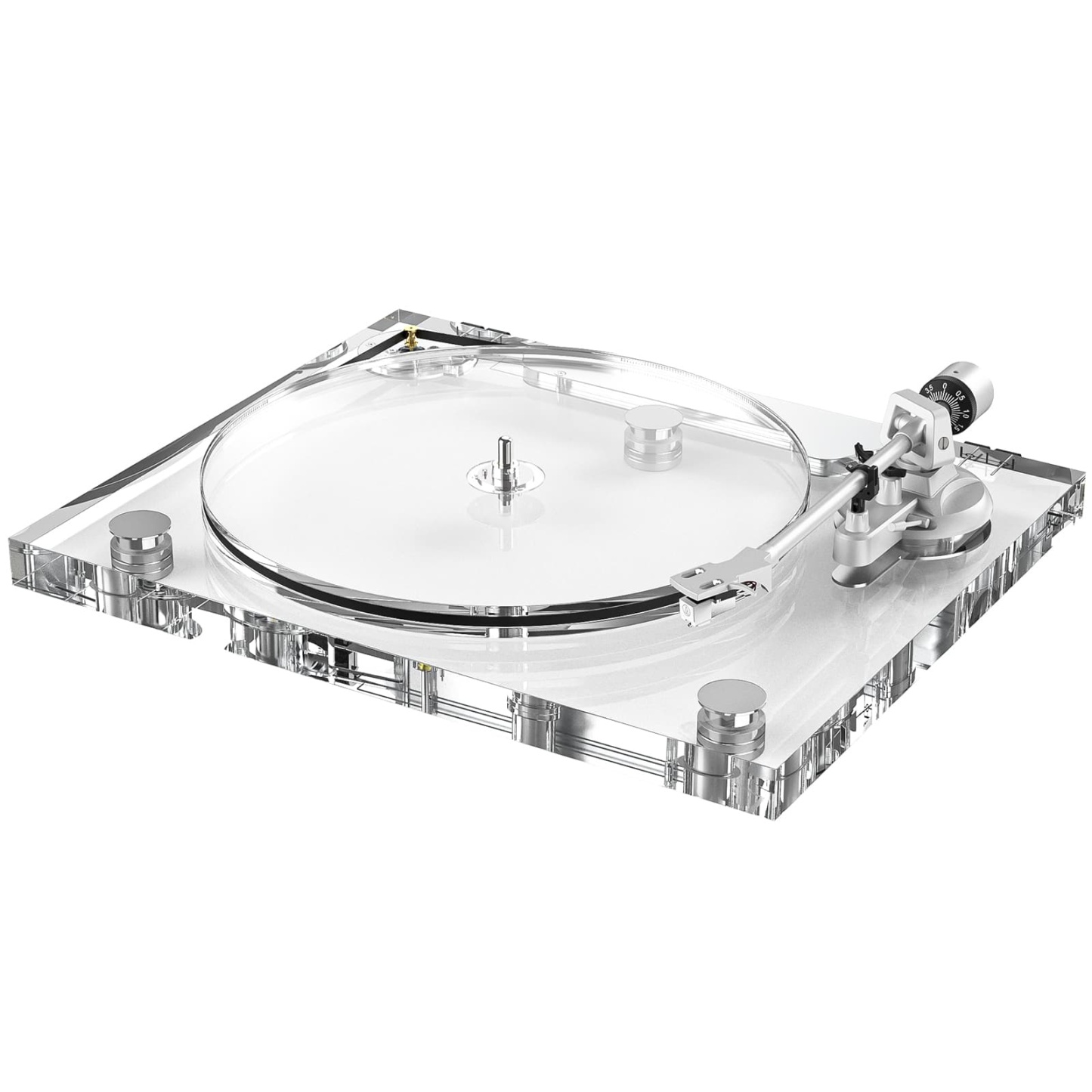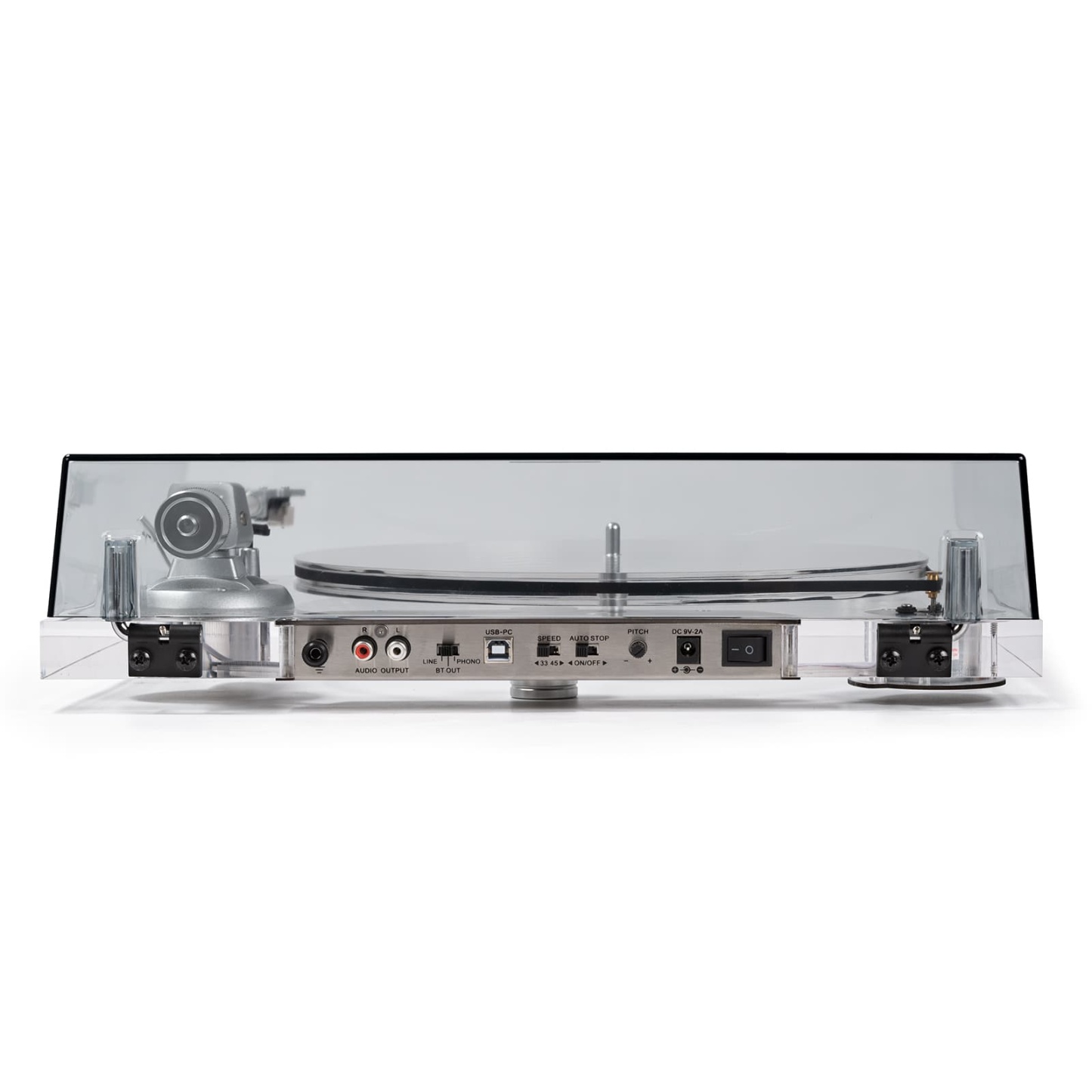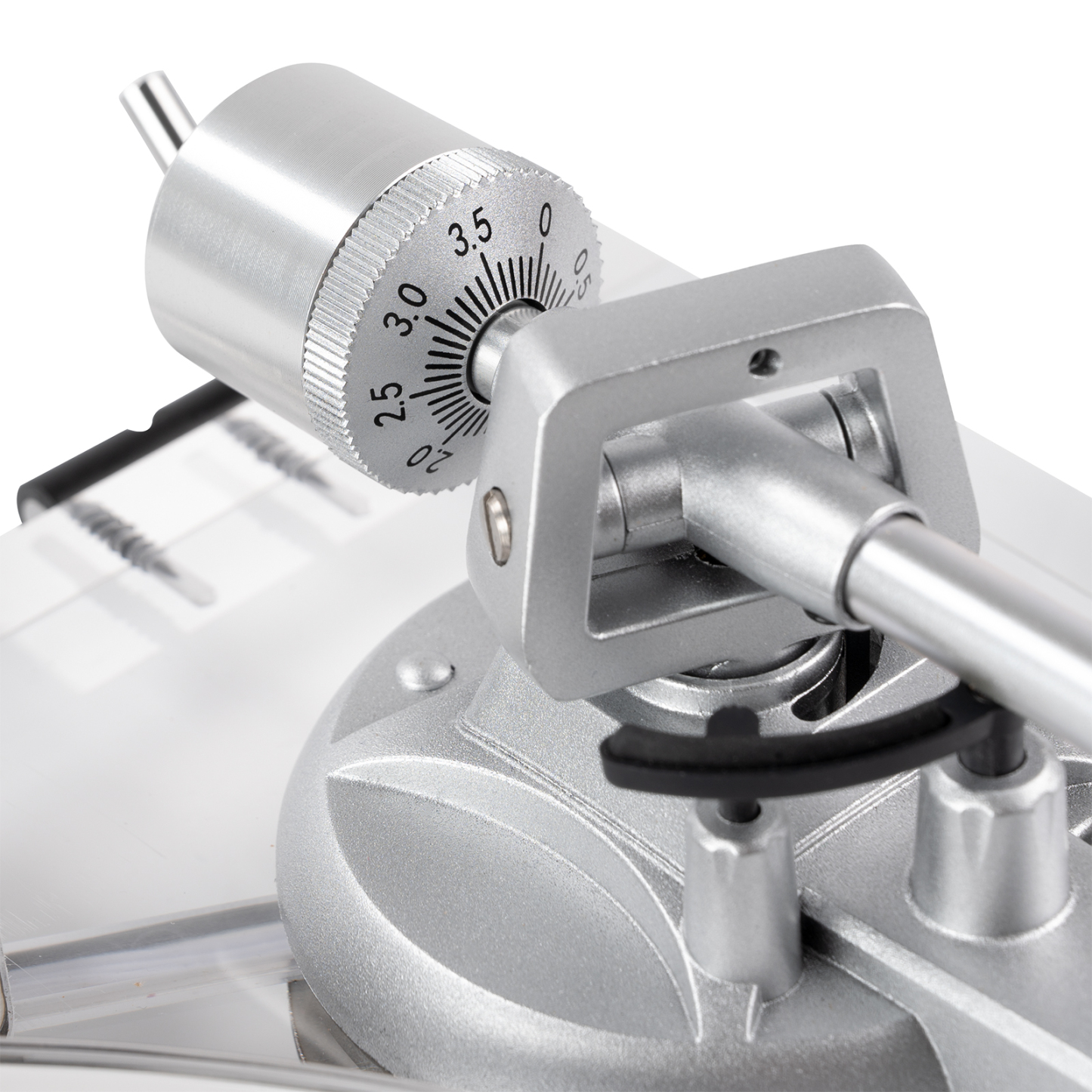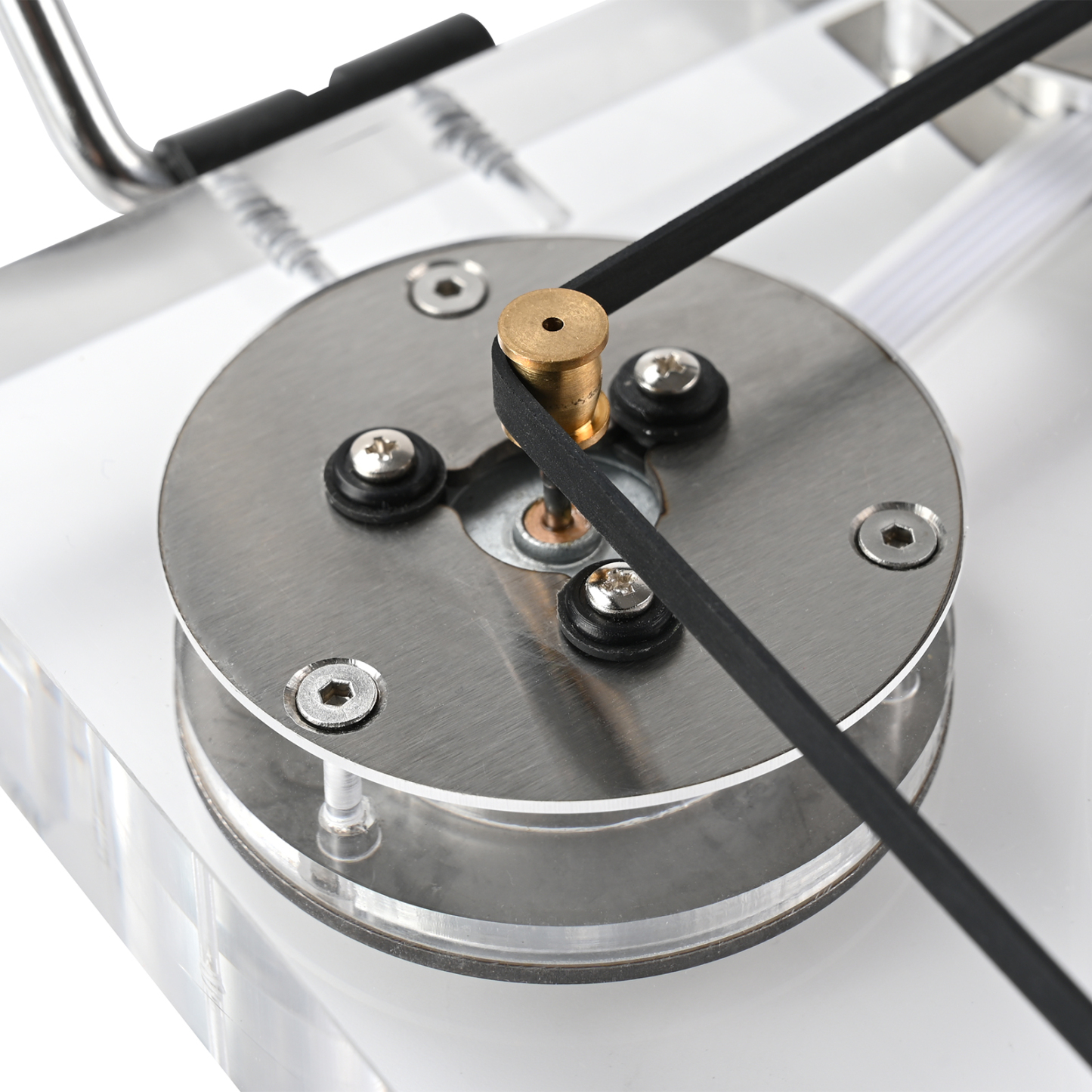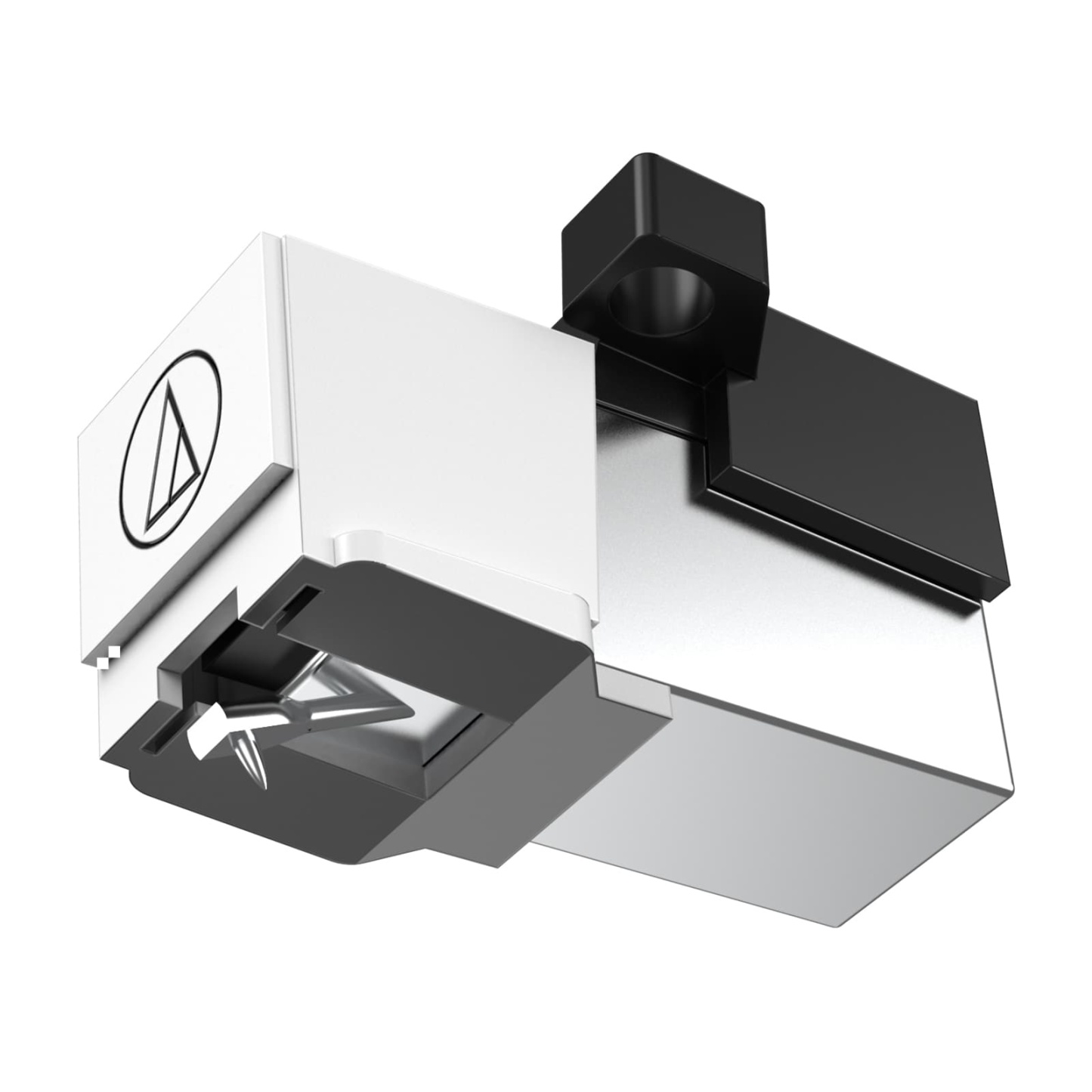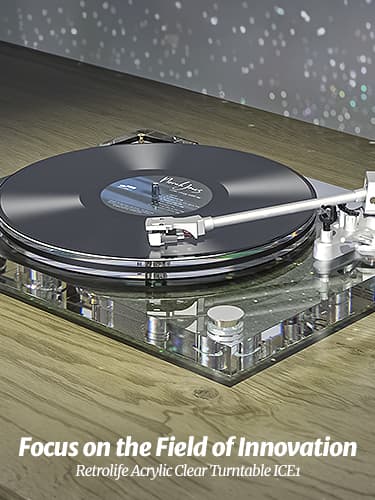 Clear Acrylic Vinyl Turntable ICE1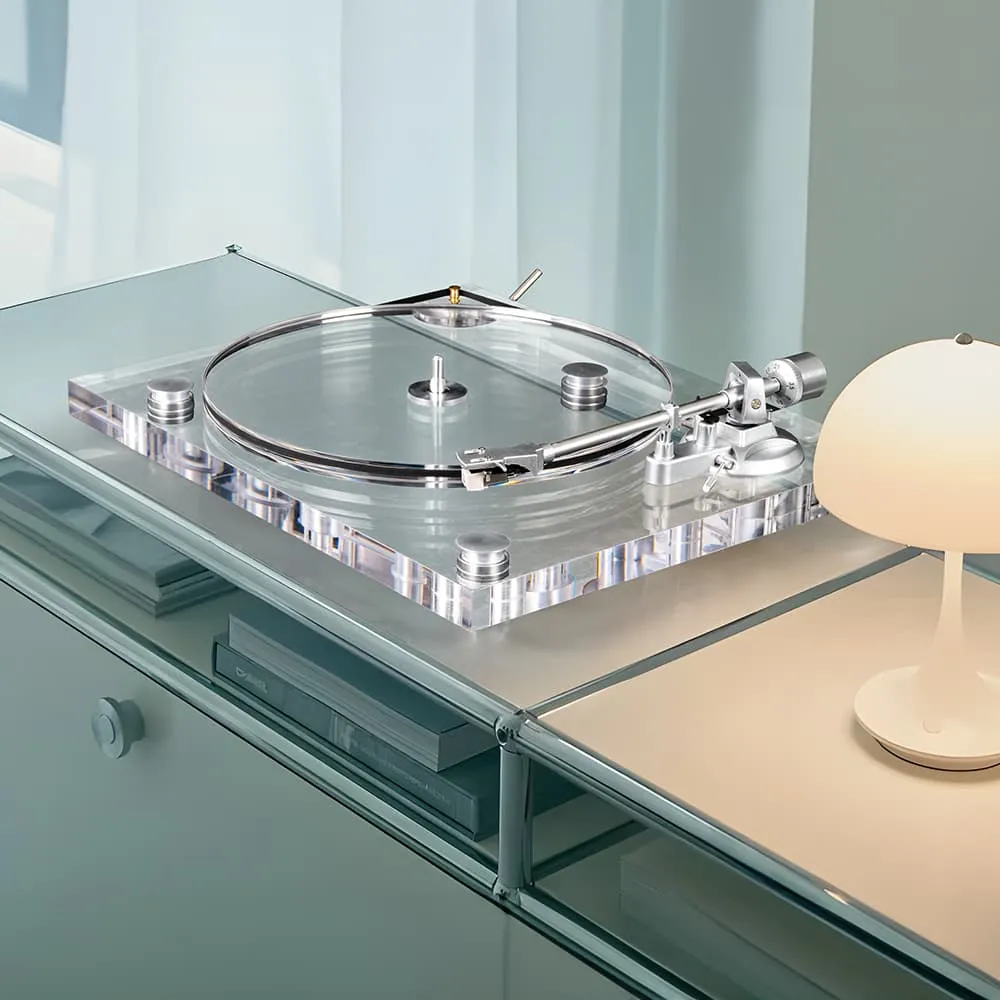 Innovative Nostalgic Vinyl turntable, the Continuation of the Sound of the Times!
The ICE1 Clear Acrylic Bluetooth Turntable is an amazing piece of audio art. Its exterior is made of transparent acrylic material, allowing people to appreciate the delicate structure and rotating vinyl records at a glance.

Crafted from premium acrylic material, the Bluetooth Acrylic Turntable boasts a remarkable blend of sophistication and durability. Its high transparency and robustness lend an elegant aesthetic to the turntable, ensuring it withstands the test of time. The sleek surface not only exudes modernity, but also offers exceptional wear resistance, ensuring a seamless and enduring music playback experience that you can enjoy for years to come.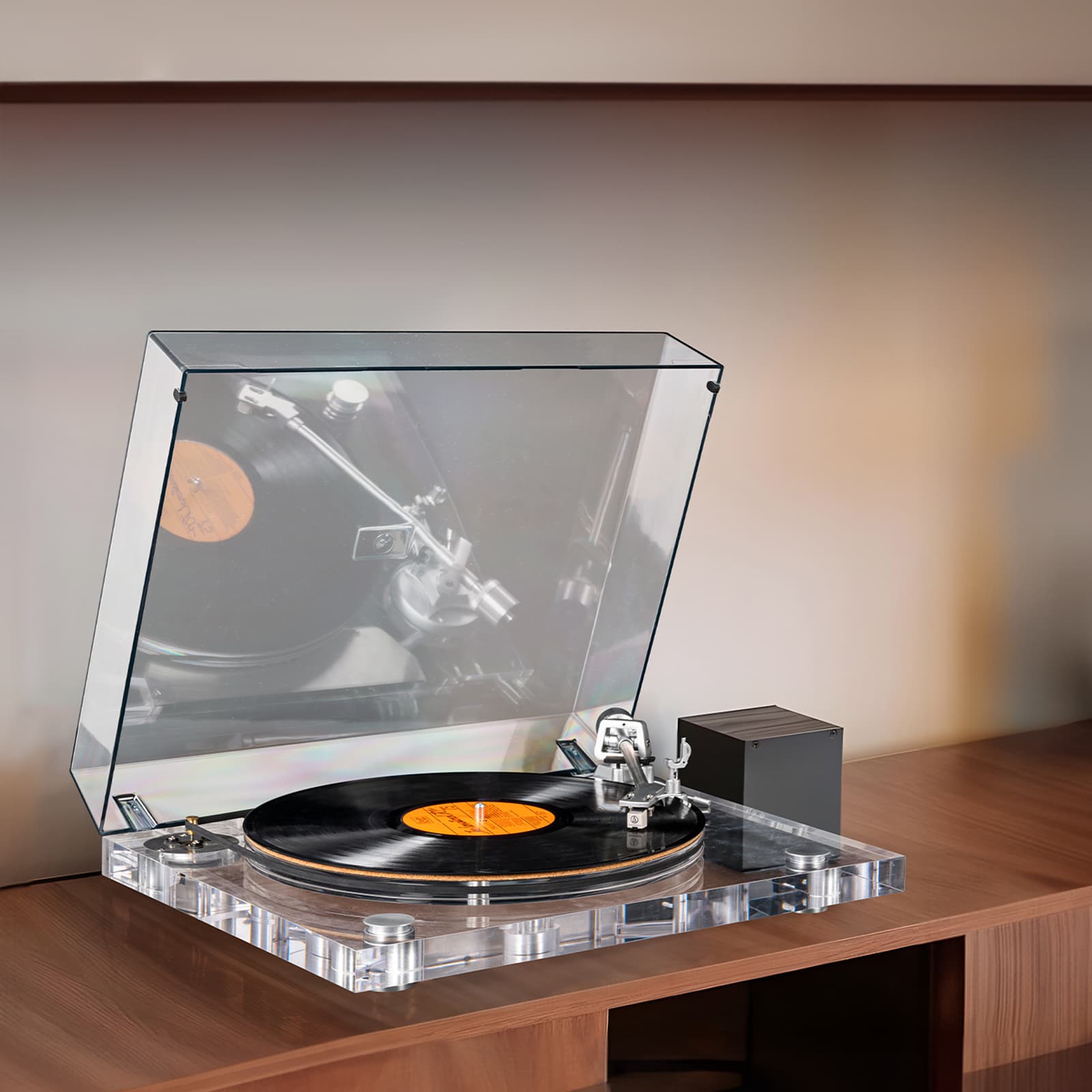 Precision Belt Driven System for Exquisite Sound
The ICE1 stereo turntable features a meticulously engineered belt drive system that stands as a cornerstone of its design, effectively mitigating motor vibrations during operation. This results in a seamless and tranquil playback experience that elevates the reproduction of intricate nuances within your vinyl collection. Moreover, the integrated speed sensor monitoring module within the motor ensures a consistent and precise rotational speed for the turntable. Immerse yourself in music with unparalleled clarity and accuracy.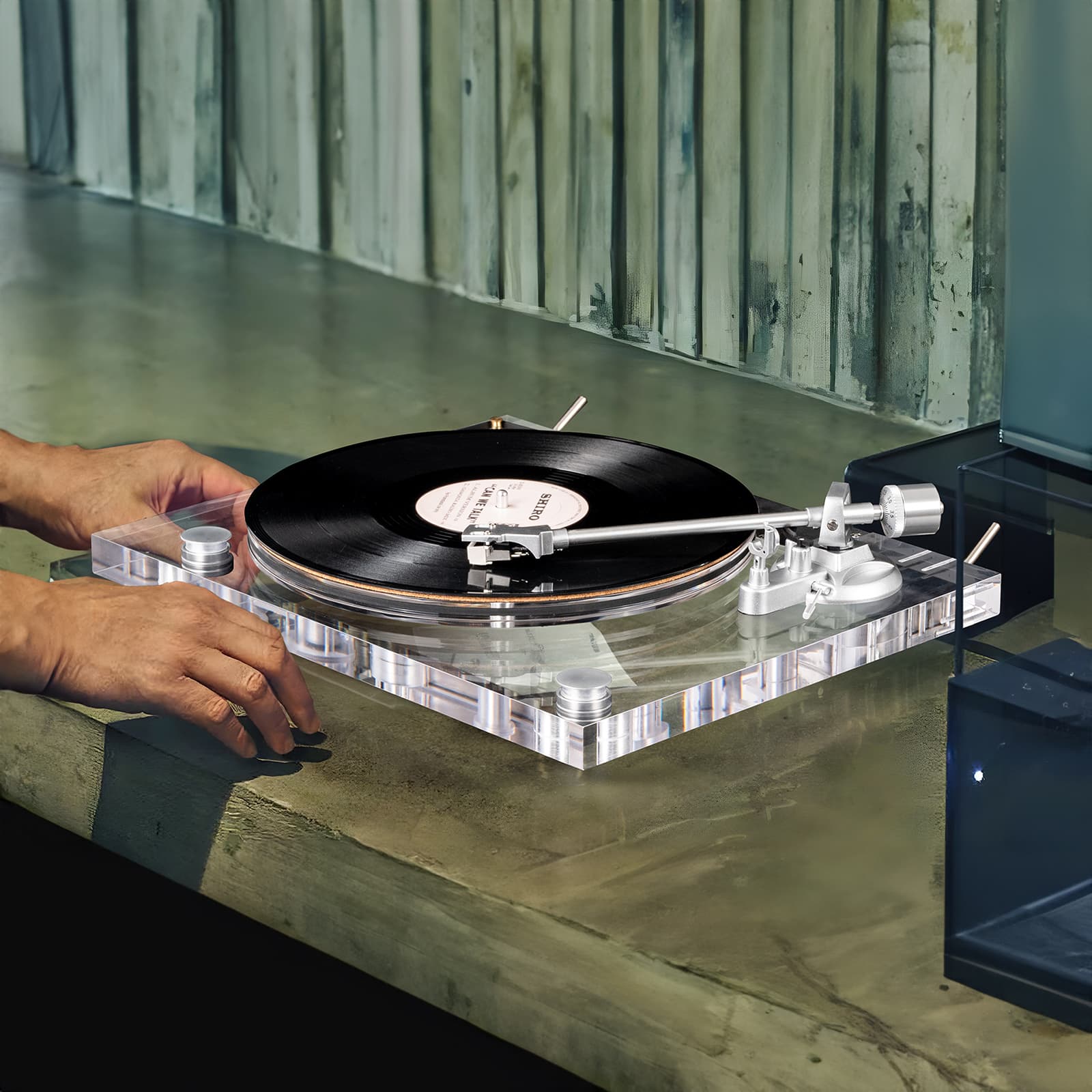 Fully Manual Playback for Vintage Tuning Charm
Retrolife proudly upholds the heritage of HIFI vinyl record players, offering a manual mode that allows users to fully engage in the captivating world of analog record tuning. This includes adjusting tonearm needle pressure and fine-tuning the anti-slip settings. The manual tuning system offers personalized adjustments tailored to record styles, listening preferences, and maintenance needs. It not only enhances your listening experience, but also contributes to the longevity of your precious vinyl records.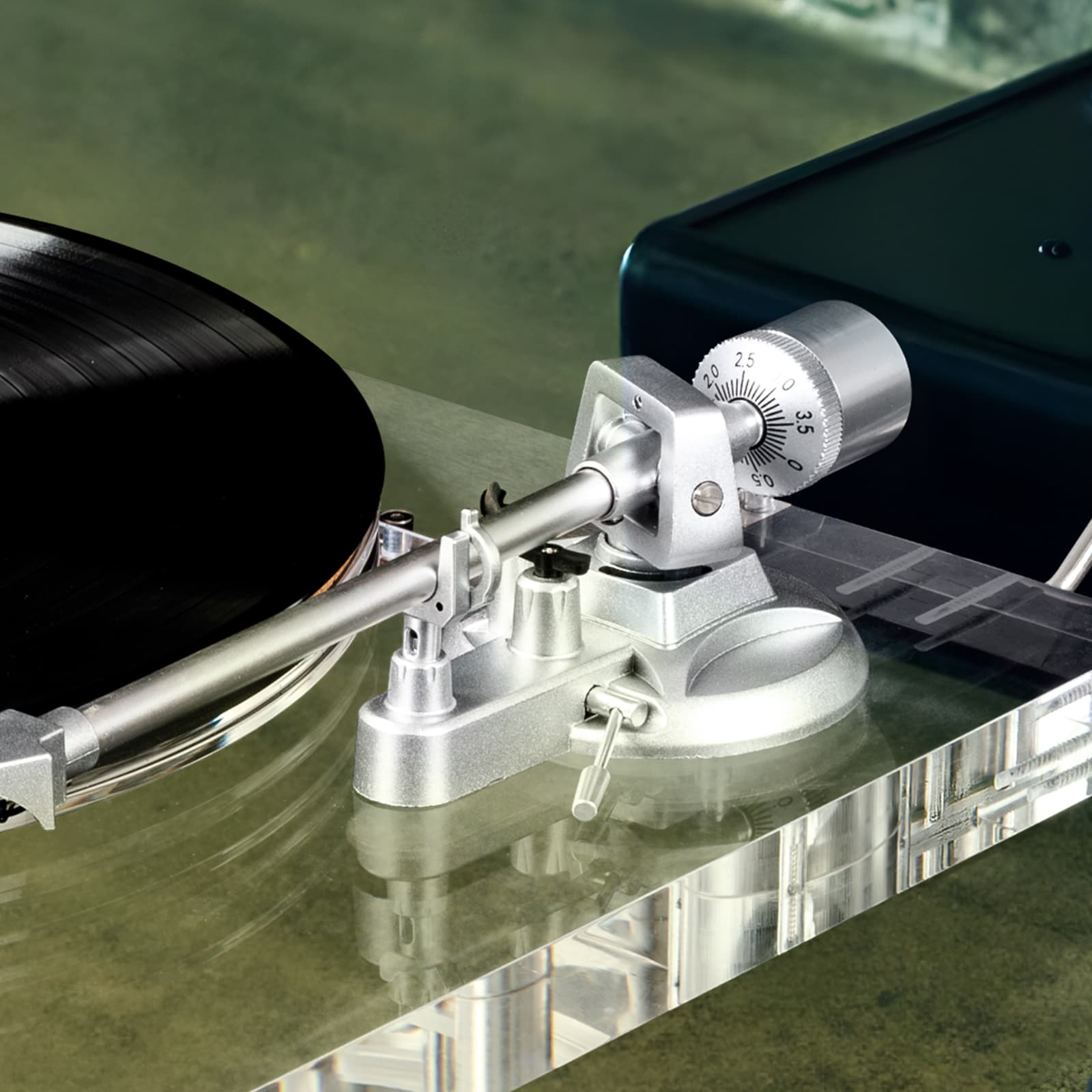 Anti-Vibration Metal Tone-arm with Hydraulic Control to Enhanced Precision
The integrated metal tonearm boasts an anti-vibration design, ensuring your music is delivered with unparalleled accuracy. Adding to this, the hydraulic damping lift control system offers a controlled and gradual lifting of the tonearm. This meticulous approach not only enhances the accuracy of record reading, but also provides vital protection to your cartridge against unintended impacts.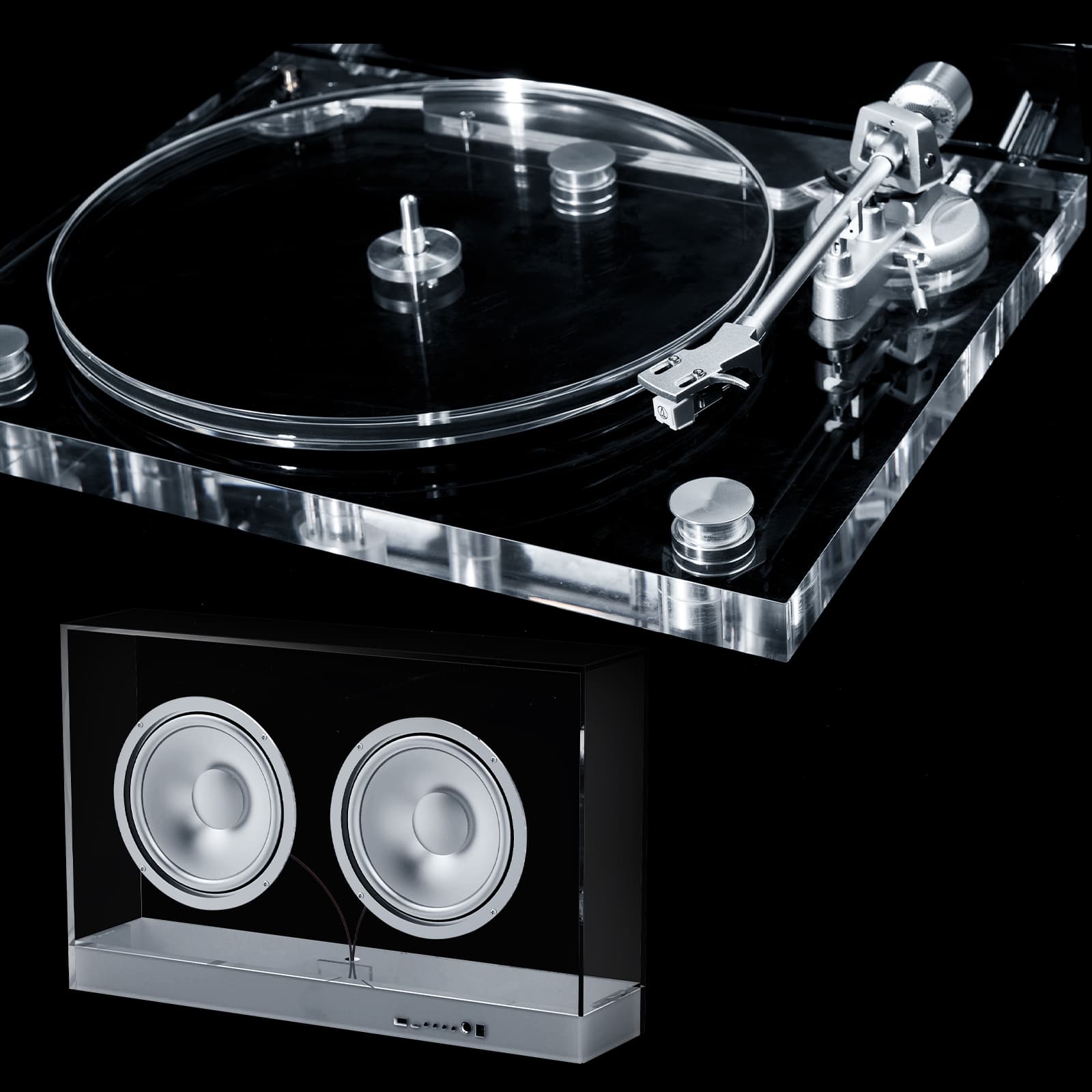 Wireless Output for Freedom Connectivity
Our state-of-the-art ICE1 turntable features a Bluetooth 5.1 transmission module. It allows for unrestricted connections within a 10-meter range in open spaces, providing you with a clutter-free environment. Whether it's Bluetooth speakers or headsets, our turntable effortlessly syncs with a wide array of playback devices that adhere to mainstream Bluetooth protocols. Elevate your space with seamless connectivity and unmatched convenience.
HiFi Double Moving Magnetic Cartridge, Full of Energy
The renowned Audio-Technica AT-3600L double-moving magnet cartridge takes center stage in our turntable, accompanied by its original headshell featuring a modular quick-release structure. This combination ensures unparalleled audio fidelity. Experience the pinnacle of audio quality, characterized by exceptional channel separation, minimal distortion, and an impressive output voltage of up to 4.0mV, delivering an abundance of power to enrich your musical journey.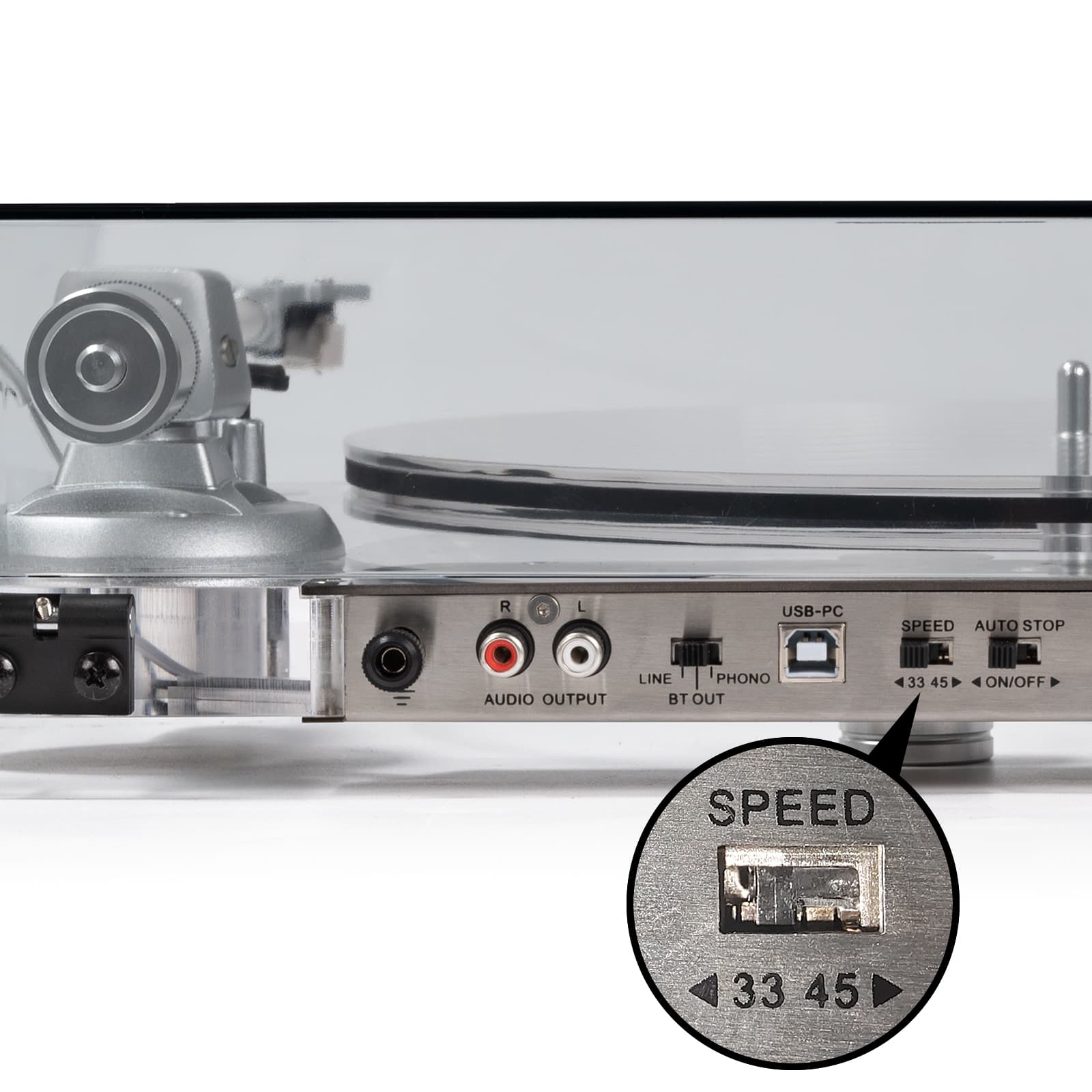 Precise Playback Speeds
Experience the ICE1 Turntable's exceptional adaptability with its support for both 33 1/3 and 45 RPM speeds. This stereo turntable effortlessly handles a range of vinyl sizes. From 7-inch singles to 12-inch albums, relish the full spectrum of your vinyl collection with precision and clarity.
High-Quality Components for Premium Sound Quality
About ICE1 Shipping
We would like to inform you that the ICE1 Transparent turntable is currently in high demand and is currently out of stock. We truly appreciate your enthusiasm and support for our product.

Due to overwhelming pre-orders, we are experiencing a delay in our inventory replenishment process. Regrettably, this means that the fulfillment of your order is expected to take a bit longer than usual. We anticipate that your order will be shipped around October 25th.

We sincerely apologize for any inconvenience this delay may cause, and we want to assure you that our team is working diligently to expedite the process and get your order to you as soon as possible.

Once again, thank you for choosing our product. We look forward to providing you with a high-quality product and a positive shopping experience.
Specs & Downloads
Turntable Specification

Recommended tracking pressure: 3±0.5g

Power Adaptor: DC 9.0V, 2A

Frequency Response Range: 120Hz-16kHz
Shipping

1. Will I receive an order confirmation?

Shortly after you have placed your order, you will receive an email confirmation with your order details.

2. How do I track my order?

Once your order has shipped, we will send you an email with your tracking number. This can be used to track your order.

3. How will my order be shipped?

1) Orders may be shipped using FedEx, or other carriers.
2) In the United States your order will be shipped from California warehouse.
3) In the Europe (Except United Kingdom) your order will be shipped from German warehouse.

4. How long until my order ships?

Please allow 1-2 business days for your order to process when calculating delivery dates. Note: Delays may occur due to severe weather and/or COVID-19.

5. How long will it take to receive my order?

1) Our shipping providers routinely deliver Monday to Friday, excluding holidays.
2) If your order contains multiple items, it may ship from different warehouse locations. Tracking information will be sent as items are shipped.
3) Shipments are subject to carrier performance restrictions. This includes but is not limited to; severe weather, natural disasters, and other conditions beyond our control.
4) *We cannot ship items to P.O. Boxes, and APO/FPO/DPO addresses.

6. Shipping Method & Delivery Time

| | | | |
| --- | --- | --- | --- |
| Shipping Method | Countries | Delivery Time | Shipping Cost |
| Standard Shipping | United States & Europe (Except United Kingdom) | 8 Business Days | Free |
| Expedited Shipping | United States & Europe (Except United Kingdom) | 4-6 Business Days | $18.06 |
| Priority Shipping | United States & Europe (Except United Kingdom) | 2-4 Business Days | $43.17 |


7. What locations do you ship to?

Ground Shipping is available within the United States (Except Alaska, Hawaii & Puerto Rico.) and Europe (Except United Kingdom).

8. Can I change the delivery address of my package after it has been shipped out?

The purchaser is responsible for providing the correct mailing address. We do not make address adjustments unless notified. Please double-check your shipping address before submitting your order.
A handling fee will be assessed on orders that are refused by the customer at the time of delivery or returned due to an "un-deliverable" or incomplete address.

If you happen to catch that you entered the wrong address you can retrolifeplayer.com/page/contact with the correct shipping address before your order is shipped, or Email support@retrolifeplayer.com. Once shipped we will not be responsible for the wrong address.

9. What happens if my order is damaged?

We take great care in packing your order to ensure it gets to you in perfect condition.

In the unlikely event, your order is damaged during shipping, please take pictures of the box, any damage to your product, and the shipping label.

You can report any shipping damage to us by contacting us within 60 days of delivery. At that time, we will open a claim with the carrier.
Warranty

One-Year Limited End-User Warranty

Every Retrolife product we sell is designed to meet and exceed your expectations. We are dedicated to providing excellent quality. Select all products purchased on our website that are warranted for one year from the date of purchase. ( * Our 1-year warranty service is limited to all purchases made directly from Retrolifeplayer.com. For purchases not made directly from Retrolifeplayer.com, please contact the retailer you purchased from.)

Before determining that your product is indeed malfunctioning, please consult your user manual for proper usage. If you have product questions outside the manual instructions, it is best to contact our Consumer Support Team for assistance.

If you find your unit to be malfunctioning, your warranty covers defects in materials and workmanship for a period of ONE YEAR (for qualified products) from the date of purchase on our website. If a defect exists, we will:

1. Troubleshoot and provide replacement parts as deemed necessary.
2. Exchange the product with a functional equivalent.

Limited Warranty Terms and Conditions

Terms of this limited warranty shall be null and void and Armer shall have no liability if the defect reported is the result of the product being used within an application or environment other than its intended use, has been subjected to misuse, abuse, accidental damage, or the product has been exposed to adverse environmental conditions. This includes, but is not limited to damage resulting in a defect caused by dropping or mishandling, incorrect line voltages, power surges, improper wiring, improperly rated fuses or circuit breakers, insufficient ventilation or acts of god. Additionally, any product whose serial number has been altered or removed is not covered by this warranty.

If you have any questions, please chat online or email support@retrolifeplayer.com.
FAQs

1. How about the sound quality of this transparent Bluetooth turntable?

This transparent Bluetooth turntable presents excellent sound quality performance, delicate and full of layers, so that you can thoroughly feel every detail of the music, as if you are in the atmosphere of a live performance.

2. Does the turntable support converting vinyl to digital format?

Yes! The turntable has the function of transcribing vinyl to MP3, allowing you to conveniently save the music in your favorite vinyl records as digital audio files. This feature enables you to digitize precious vinyl music and play it on various digital devices anytime, anywhere.

3. How is the quality of the invisible material of this turntable?

The clear Bluetooth turntable is made of high quality acrylic which adds to its great look and quality. Acrylic is a strong, durable material that is highly transparent, revealing the inner mechanics and record rotation. Its smooth texture and noble and elegant appearance make the clear bluetooth turntable an eye-catching work of art. Acrylic material also has excellent scratch and corrosion resistance, which can effectively protect the turntable from external damage.

4. Is this turntable campatible with all different types and sizes of the vinyl records?

Yes! The turntable has wide compatibility and can seamlessly connect with a variety of different types and sizes of vinyl records. Whether it is a 7-inch, 10-inch or 12-inch record, whether it is 33 1/3 or 45rpm, this turntable can perfectly recognize and play it.

5. How does the turntable connect with other devices(such as speakers, headphones)via Bluetooth?

It is very easy to connect the transparent Bluetooth turntable with Bluetooth speakers or headphones. First, make sure your Bluetooth speaker or headphones are in pairing mode. Then, enable Bluetooth on the clear Bluetooth turntable, usually found in the settings menu or on the button. Next, enter the Bluetooth setting interface of the transparent Bluetooth vinyl record player, and search for nearby Bluetooth devices.