Modern Bluetooth In&Out Turntable with 40W HiFi Speakers System RetroLife UD006
If you want to enjoy the rich and loud sound of your favorite records on vinyl, the Retrolife UD006 turntable with 40W speakers system, supporting Bluetooth input and output, is an excellent choice. The dual-powerful external speakers are louder, clearer, and adjustable, providing outstanding sound quality. It's perfect for a music lover's first system, an audiophile's second system, or anyone who wants amazing sound in an elegant configuration. Bluetooth Input & Output, Manual Belt Driven System, 2-Speed: 33 1/3 & 45RPM, Pre-installed ATN3600L Stylus, RCA Out & AUX In. Turntable Size: 14.09"L x 16.42"W x 4.92"H, Speaker Size: 6"W x 6"D x 9"H.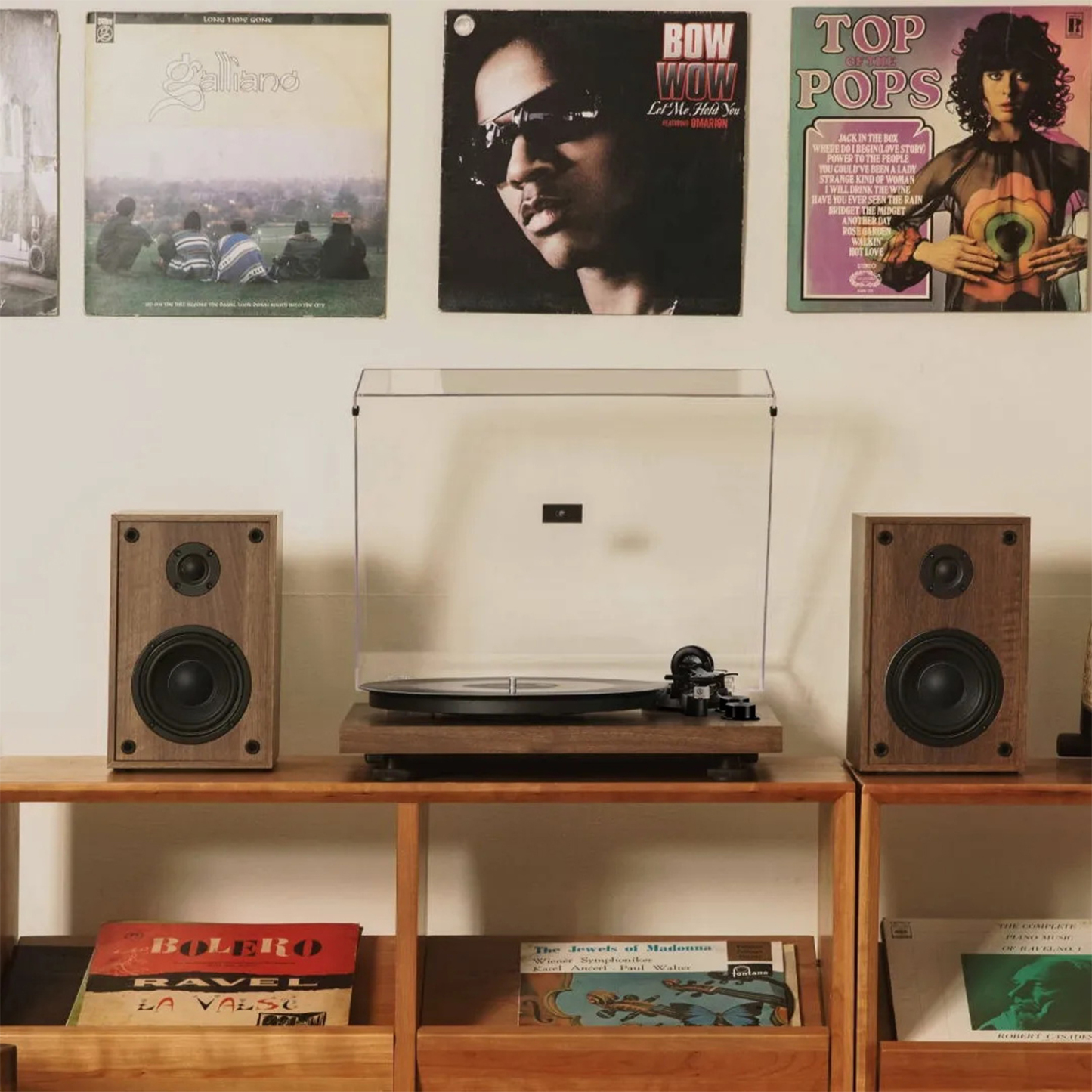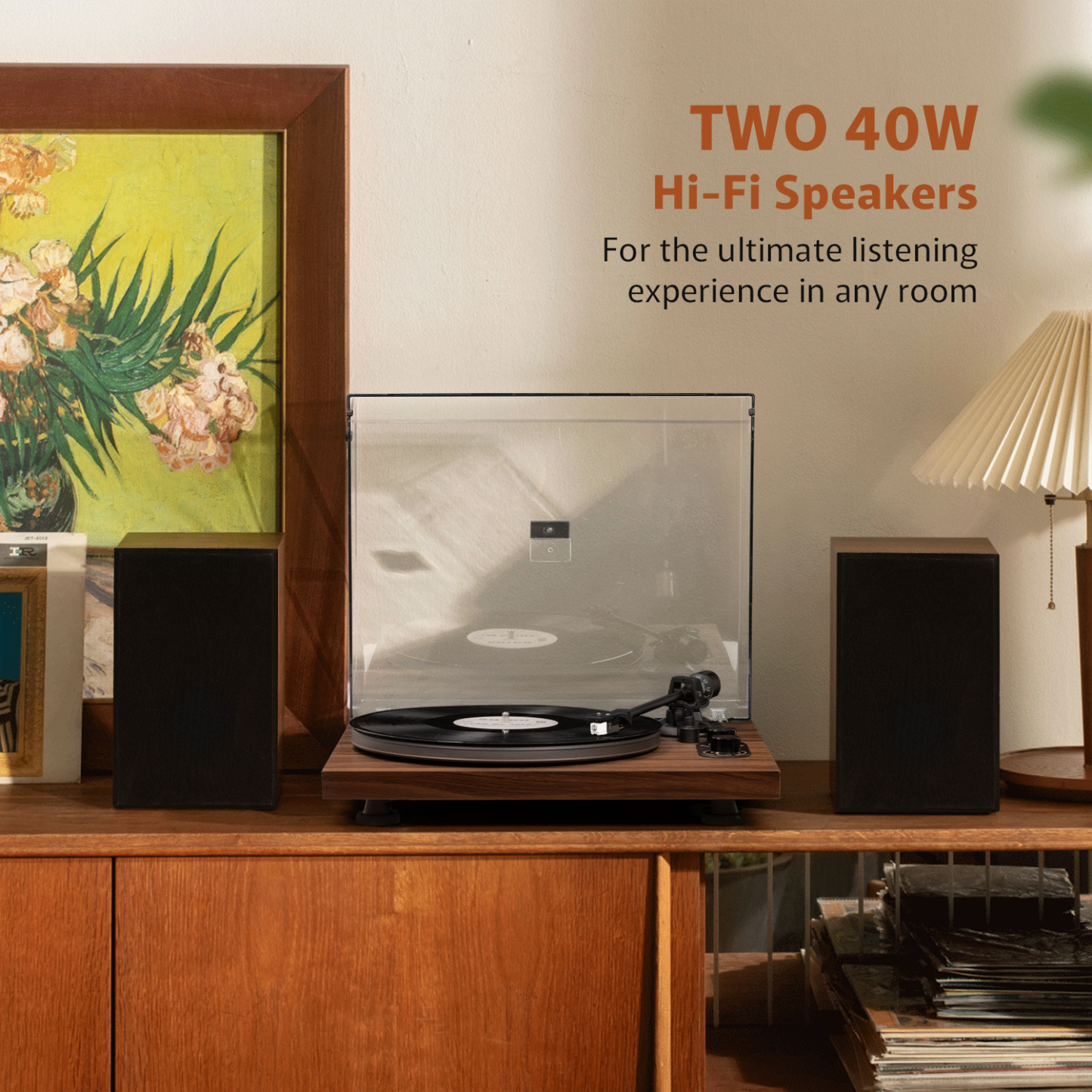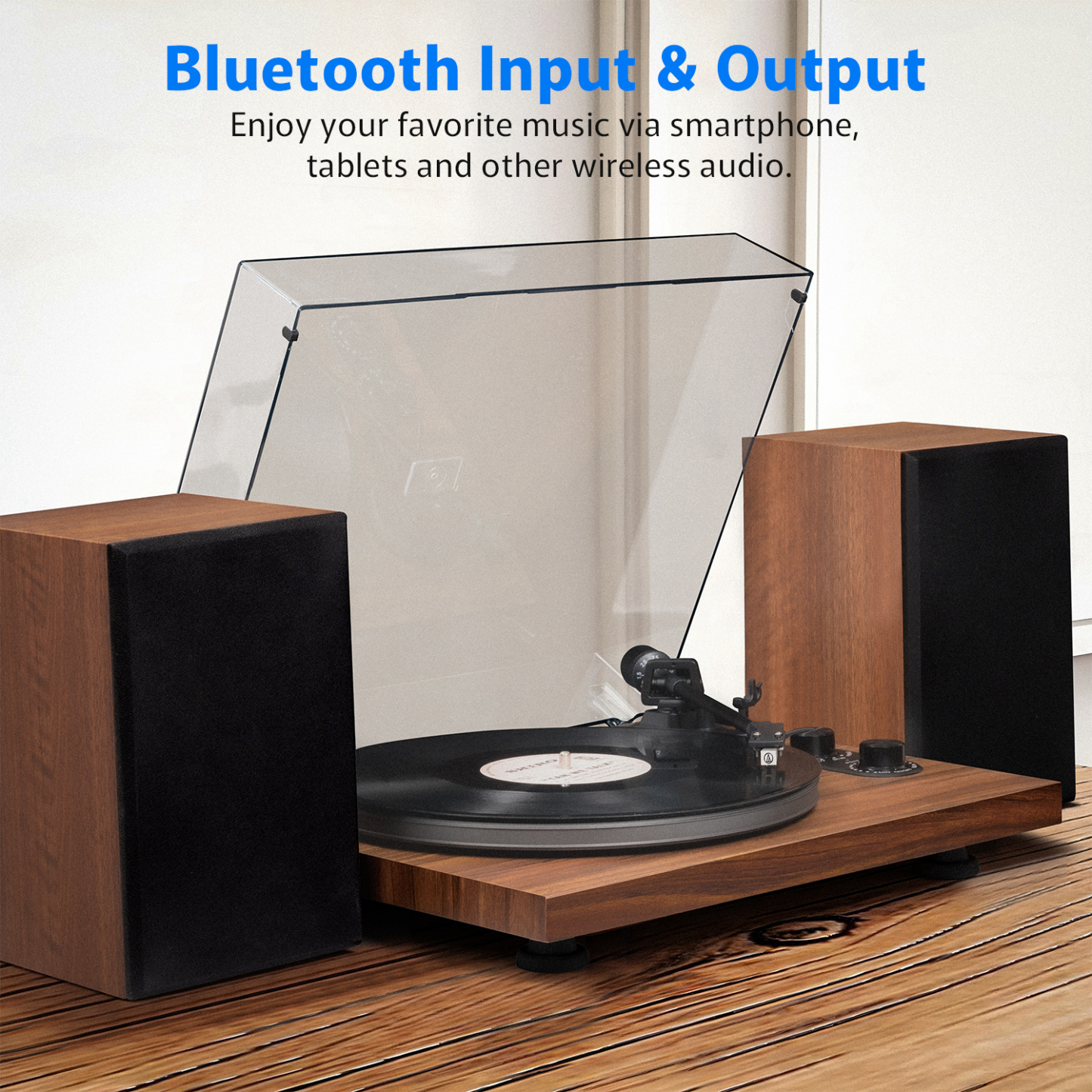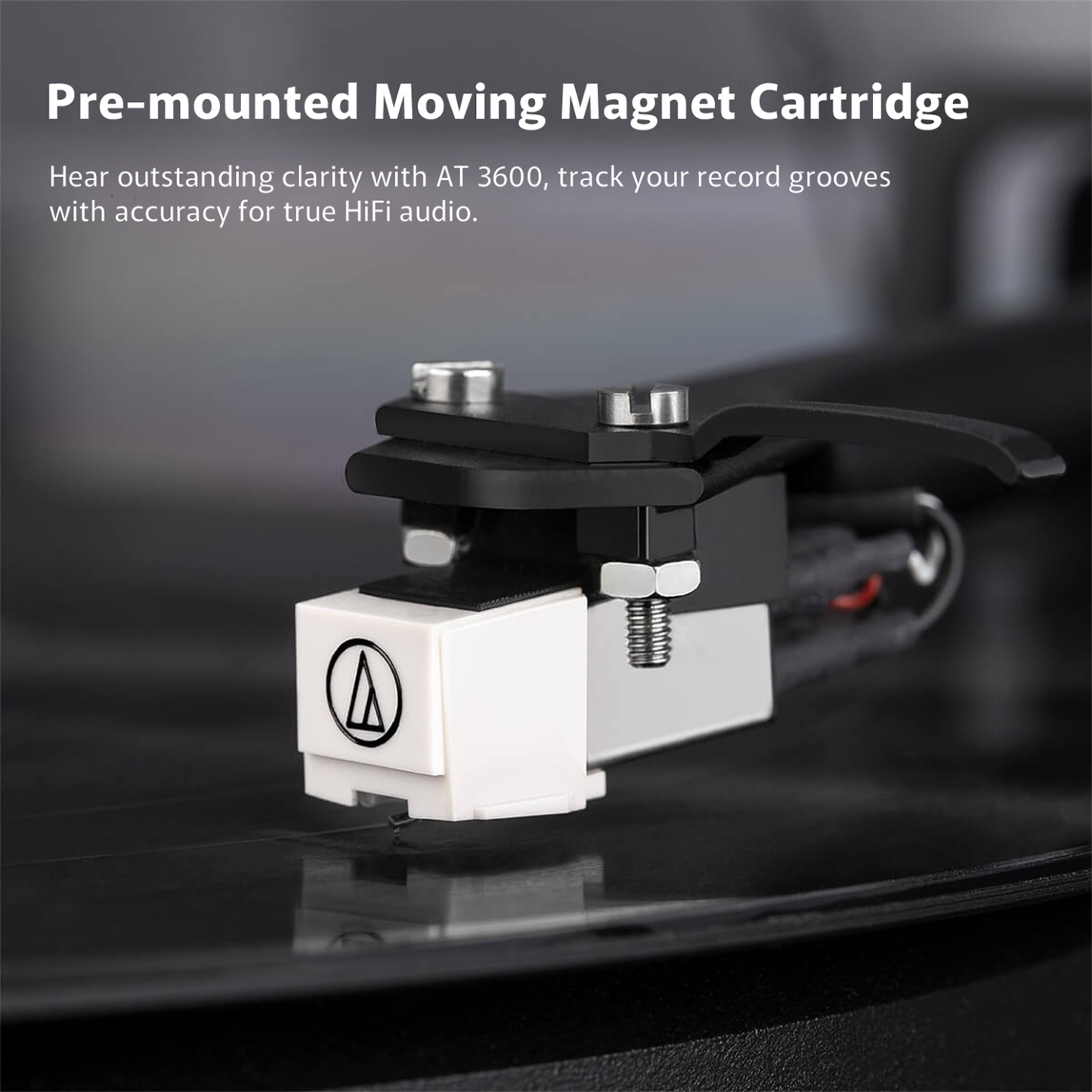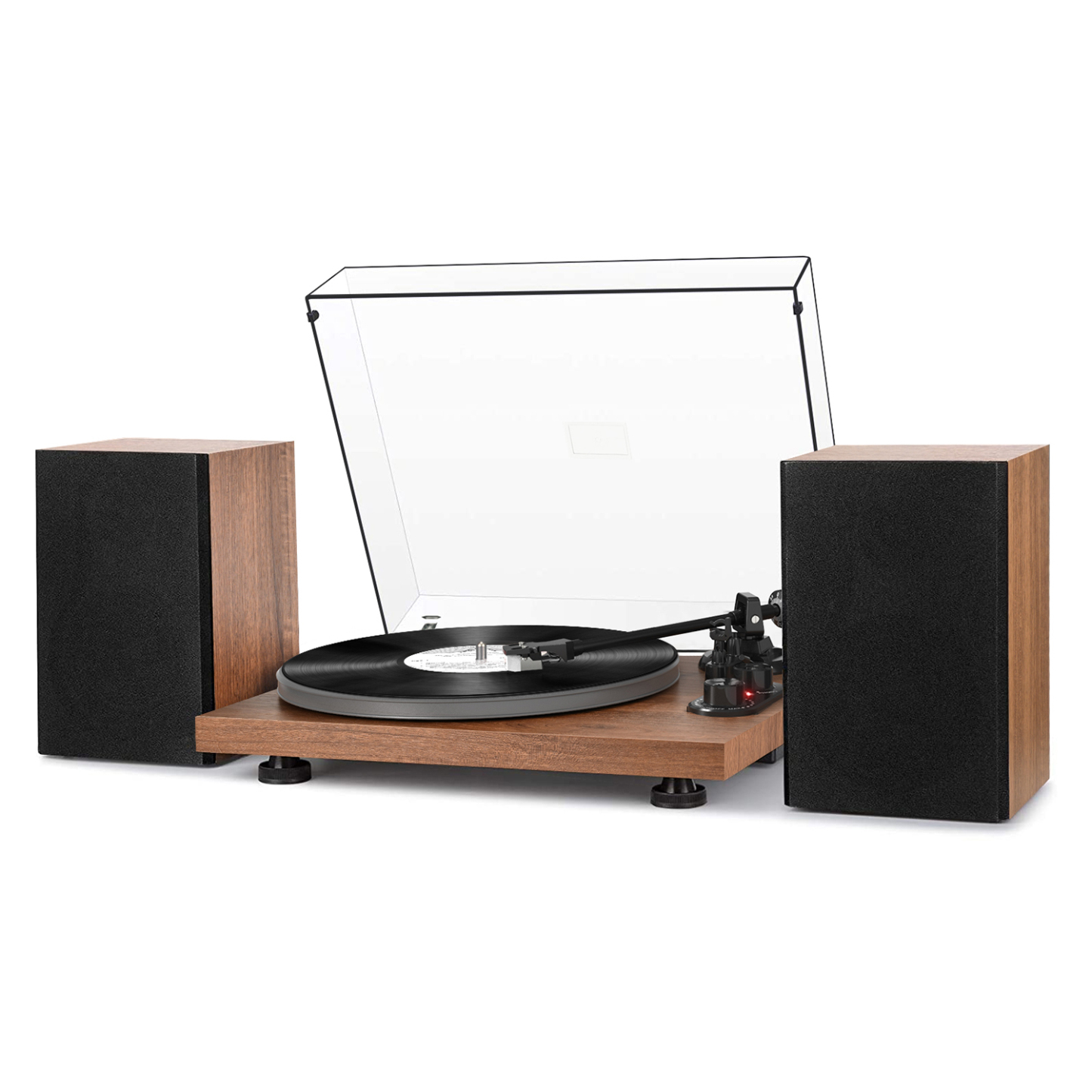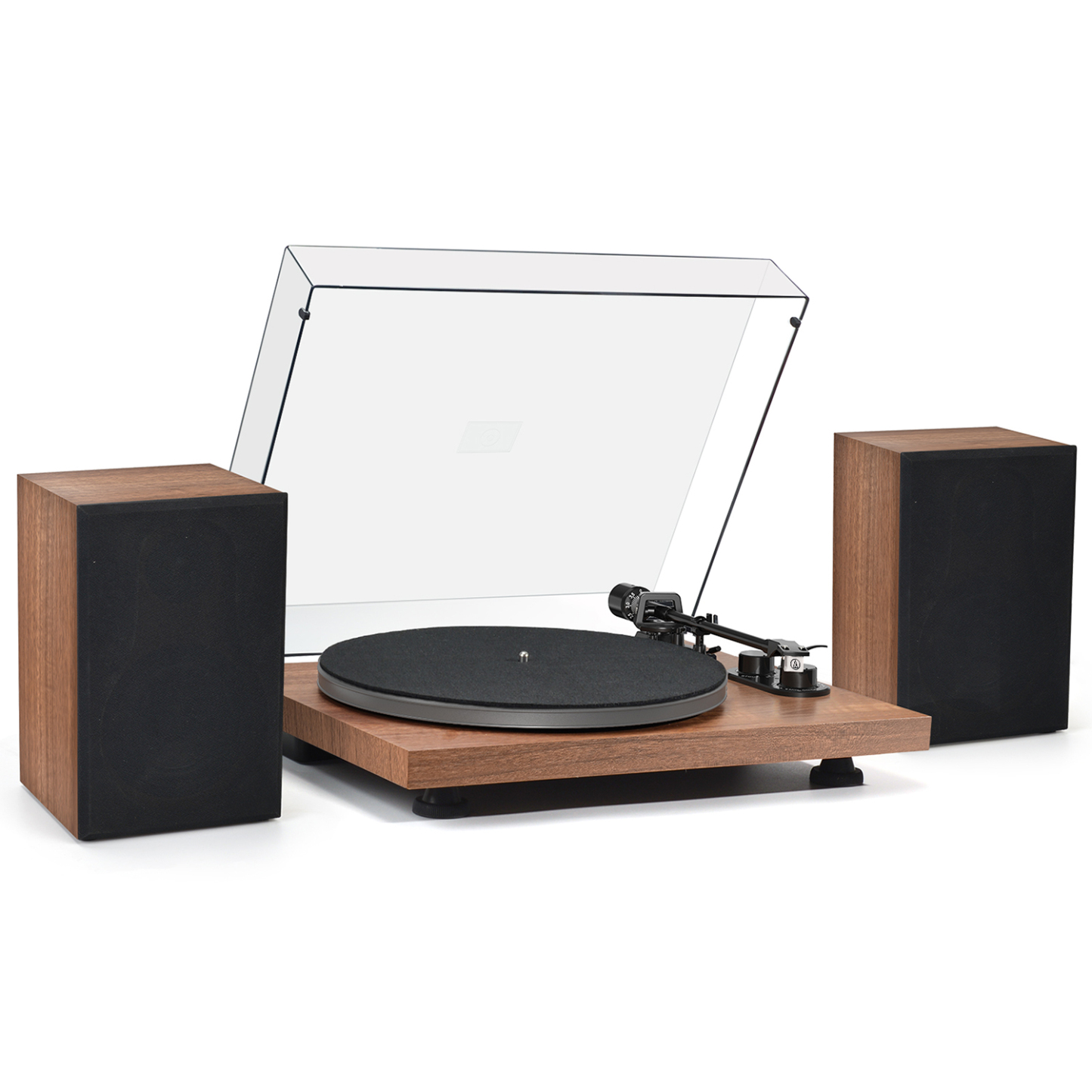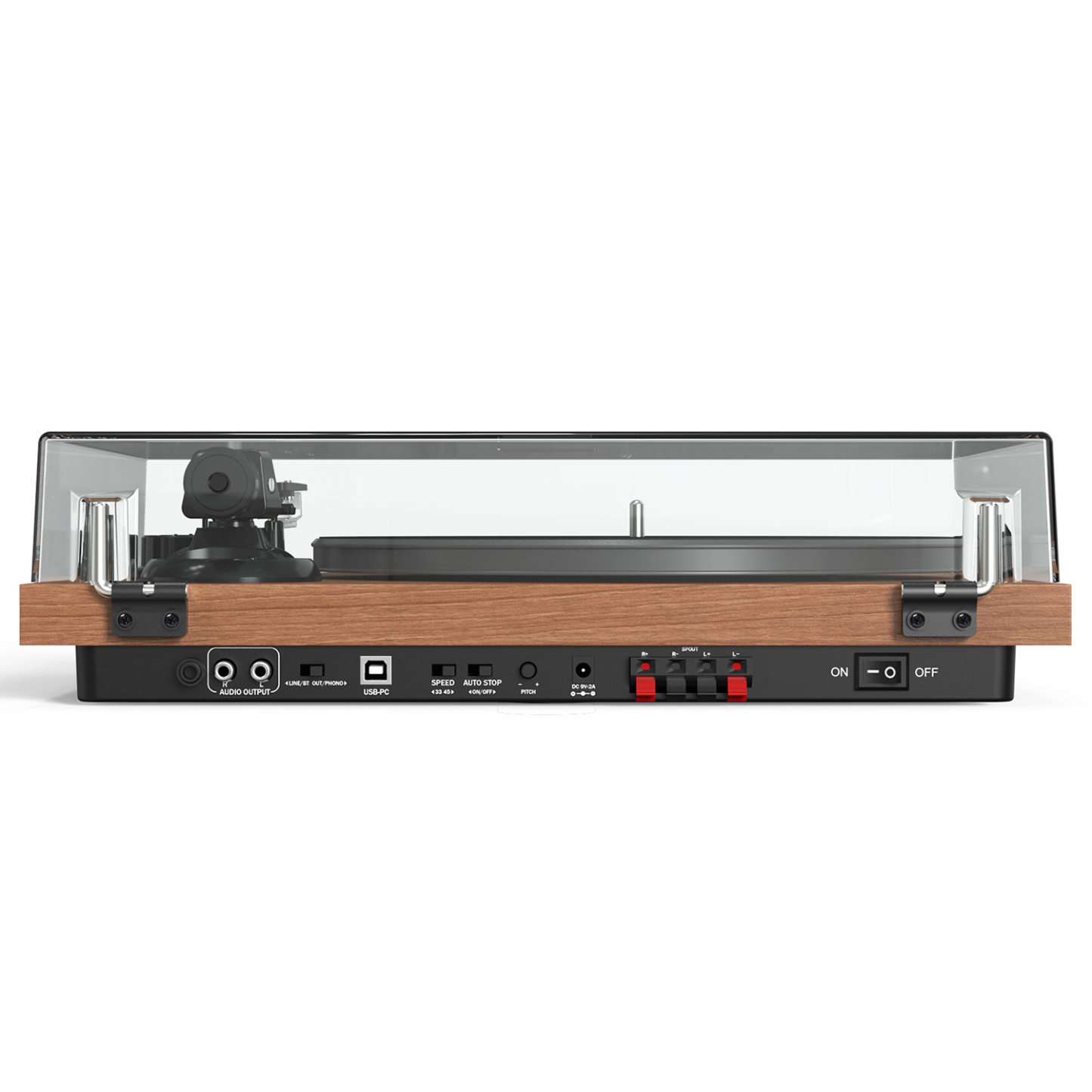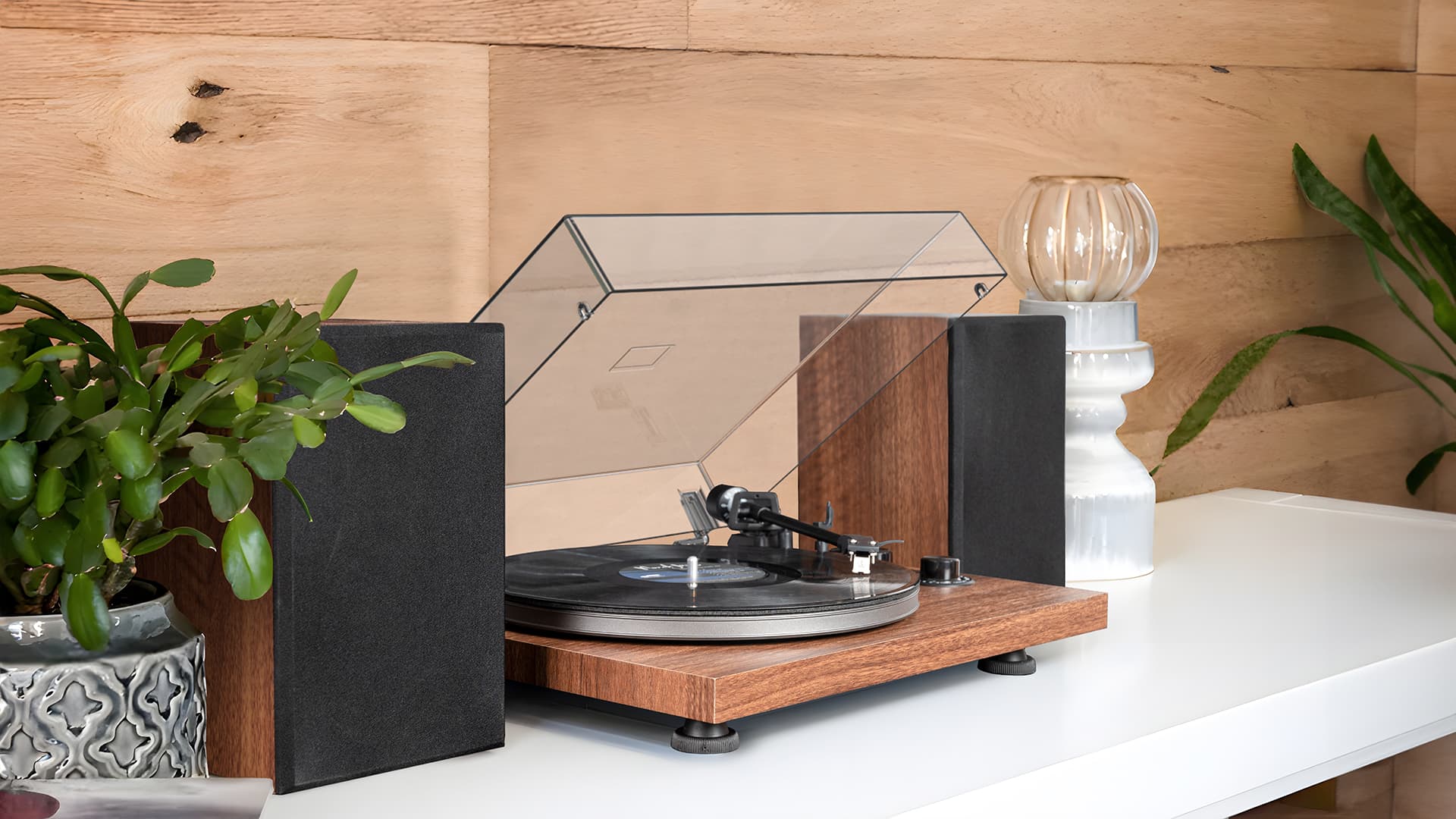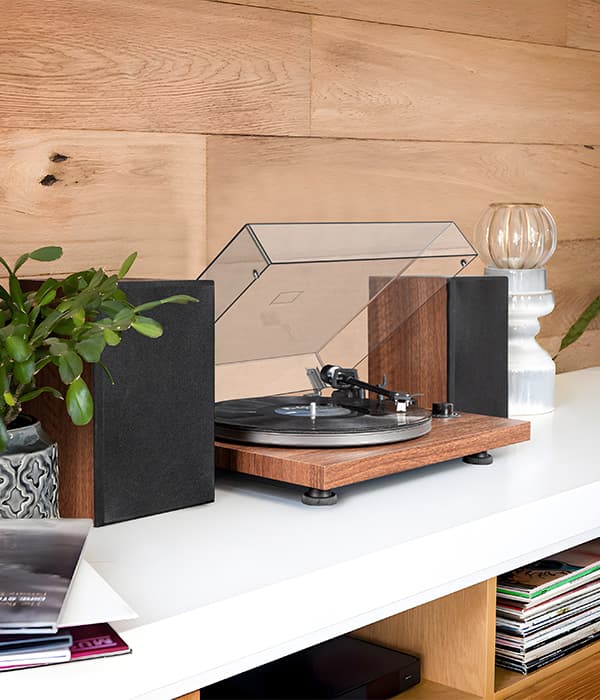 1. vintage design
Retro log design, perceivable sound experience.
2. sound quality
UD006 built-in phono system, audio-technical moving magnetic phono cartridge.
3. adjustable Needle Pressure
By adjusting the counterweight, the stylus pressure can be controlled.
4. external audio
UD006 comes with a set of 40-watt stereo speakers.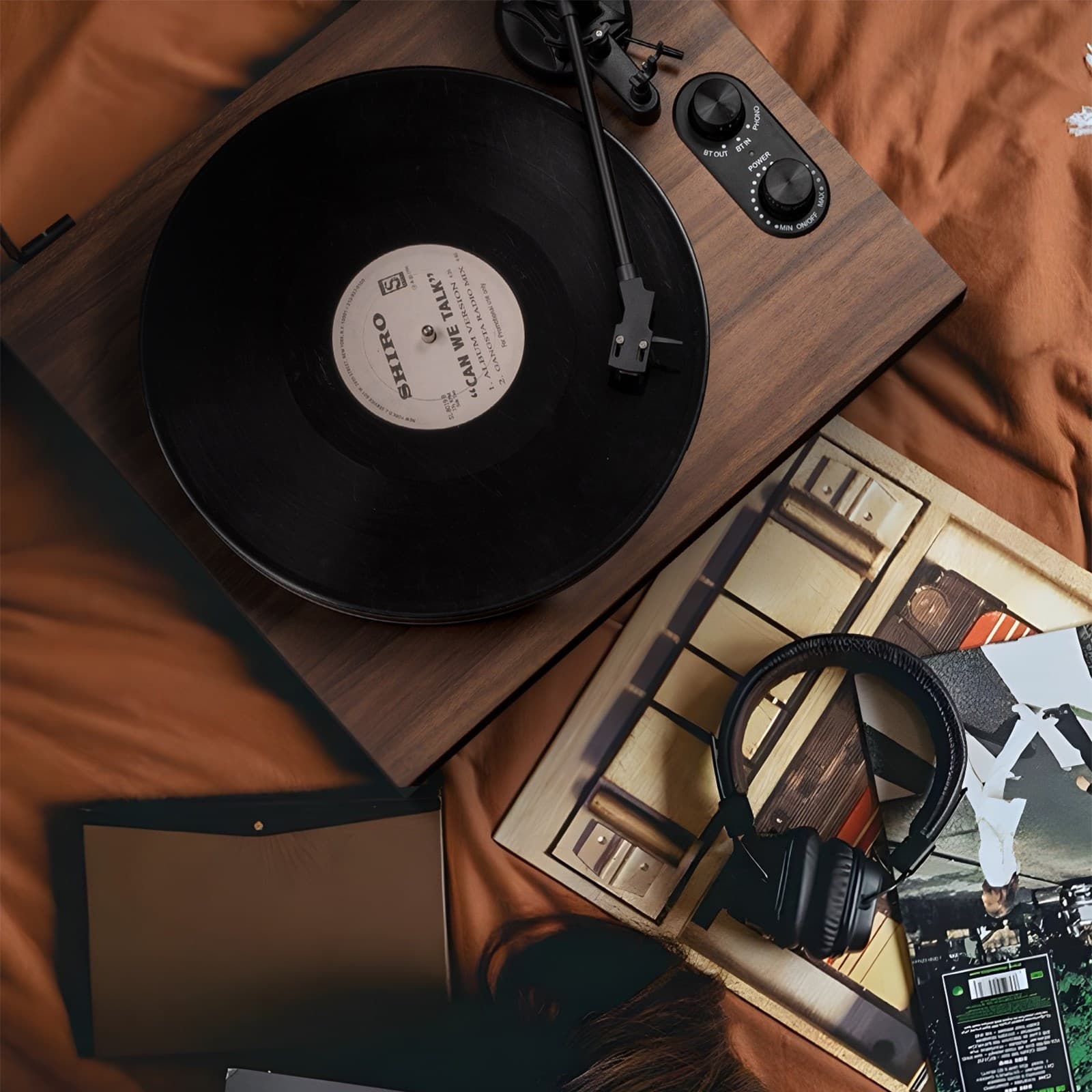 Retrolife Turntable HiFi System with Vinyl and Bluetooth Playback Modes
Vinyl Playback Mode: Offers a tactile connection to the vinyl record as the stylus delicately traces the grooves of your vinyl records. It captures the depth and nuances of each track, delivering an authentic and nostalgic listening experience that digital formats simply cannot replicate.
Bluetooth Input Mode: Easily pair your compatible devices, such as smartphones, tablets, or laptops, to the turntable and stream your favorite tracks effortlessly.
Bluetooth Output Mode: Seamlessly connect the turntable to your Bluetooth-enabled speakers or headphones for a wire-free and immersive listening experience.
The 40W Stereo Speakers Provide Loud and Lively Sound
Equipped with 40W stereo bookshelf speakers, immerse yourself in rich, captivating sound that fills the room and enhances your music-listening moments. From crisp highs to resonating lows, this UD006 turntable HiFi system ensures an unforgettable audio experience that complements the essence of your favorite vinyl records.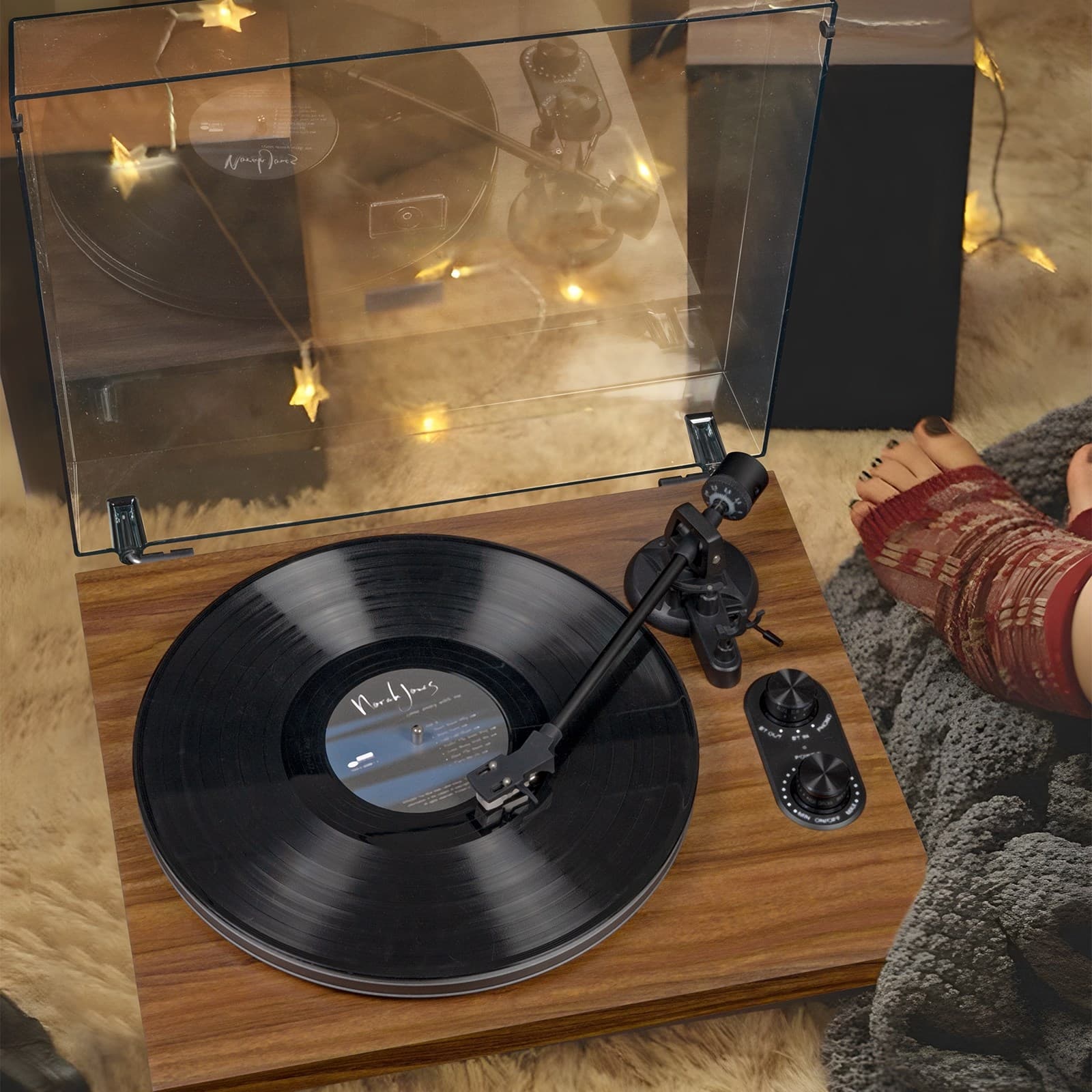 Classic Wood Design Turntable System
The UD006 record player's wood design resonates with the timeless beauty of vinyl records, evoking a sense of nostalgia while seamlessly blending into modern spaces. Ignite your passion for music with a turntable that's not only an auditory delight but also a visual centerpiece that enhances your living environment.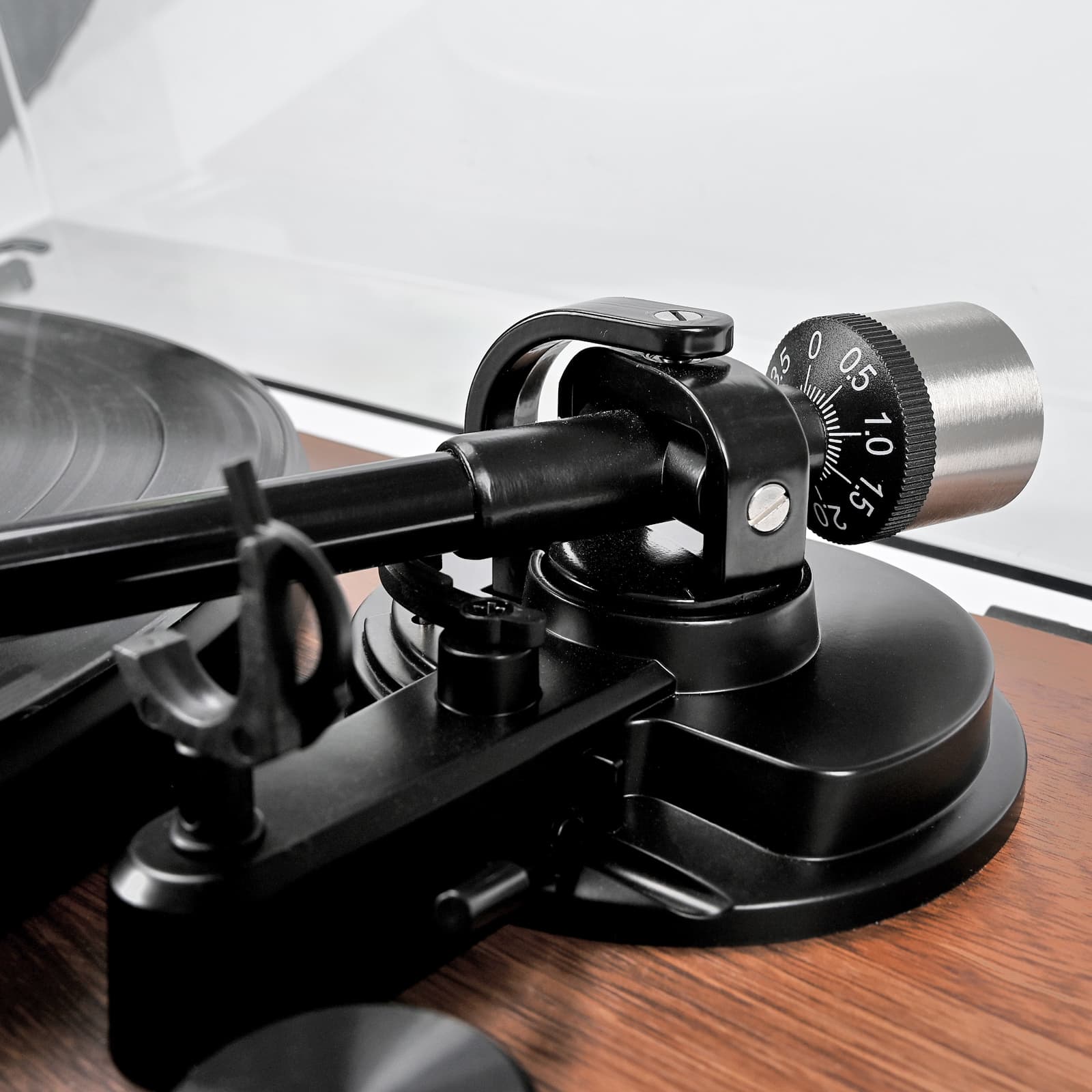 Adjustable Counterweight of Turntable for Precision Tuning
Experience audio perfection like never before with the Retrolife UD006 Turntable's adjustable counterweight feature. Take control of needle pressure and tracking precision, allowing you to optimize playback for each record's unique characteristics. The UD006's turntable system, combined with the adjustable counterweight, ensures that your vinyl records are treated with the care they deserve.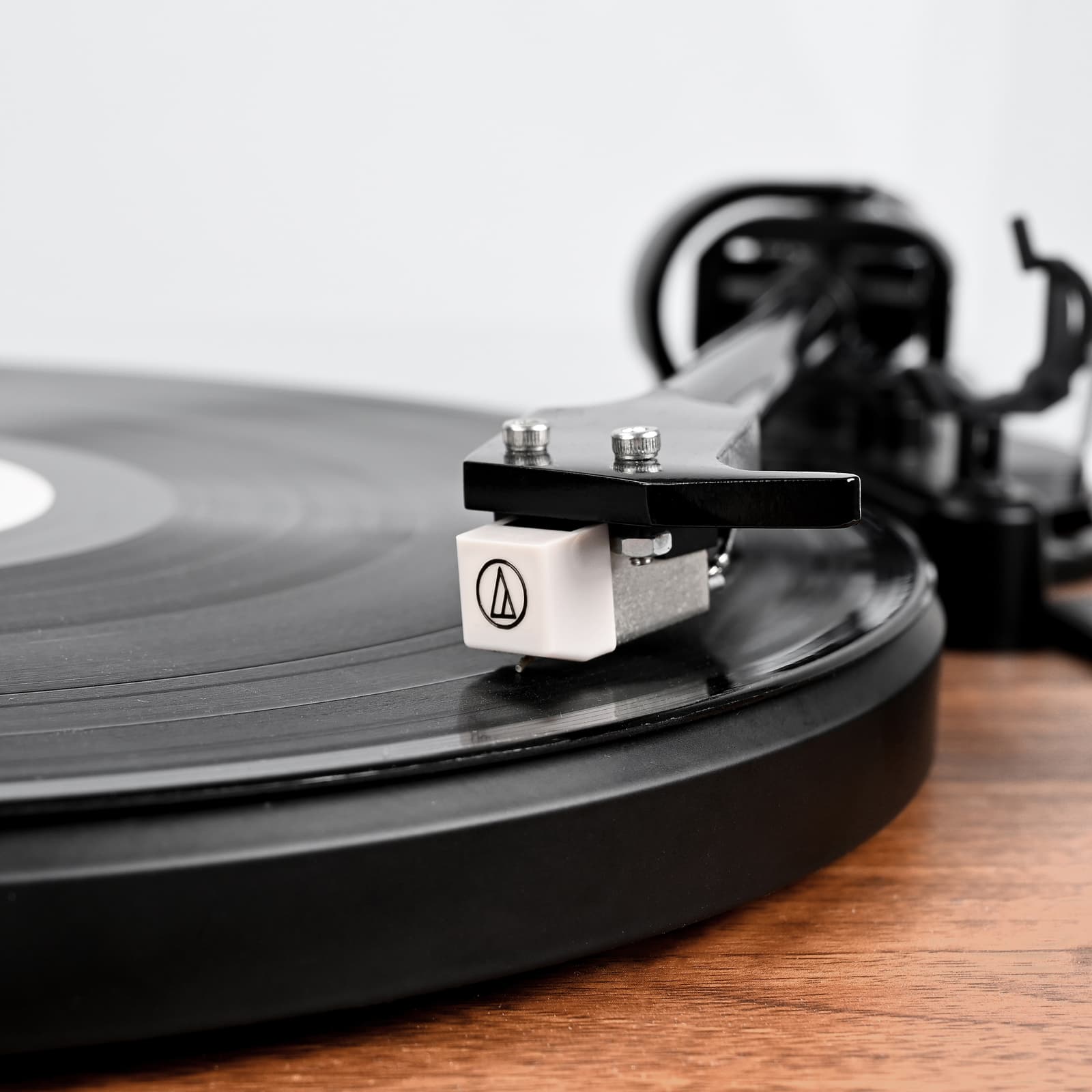 Professional Audio-Technica Moving Magnet Cartridge
*The stylus is a consumable item and is not covered by the warranty.

Under normal circumstances, it can support 400-3000 hours, and the later maintenance is simple and economical. If you need to buy a stylus, you can place an order on the website at any time.
Corresponding stylus model: AT3600L.
Specs & Downloads
Record Player Specification

Category: Turntable Speaker System

Power adaptor: 100-240V 50/60Hz, DC output: 9V 2000mA

Frequency range: 50Hz-20KHz

Cartridge: Audio Technica 3600L MM Cartridge

Record size support: 7"10"12"
Dimensions

Turntable size: 14.09" L x 16.42" W x 4.92" H

Speaker size: 6" W x 6" D x 9" H
What's in The Box?

1 x Retrolife UD006 Turntable

1 x Pre-installed Cartridge & Needle