10 classic songs to ring out on New Year's Eve
Dec 30,2021 | Retrolife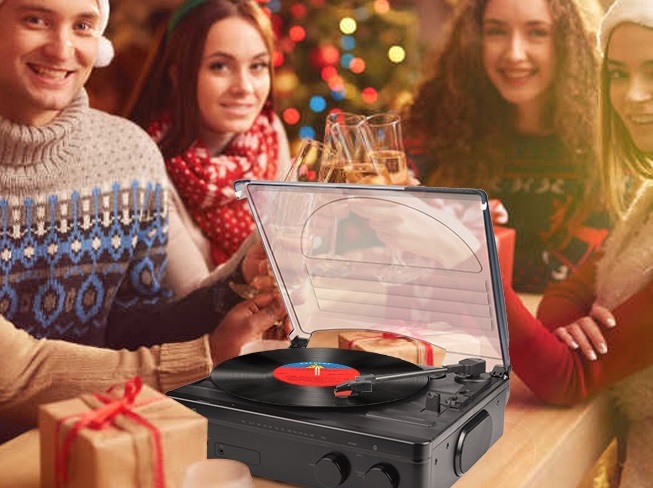 New Year's Eve is just around the corner, and everyone is weighing plans and preparing the party to get into celebration mode. It's going to be a special night, and one of the keys to achieving this divine party nirvana is to play the absolute best New Year's Eve songs all night long. To celebrate the end of 2021 and the promising new beginning of 2022, we've listed 10 classic New Year's Eve songs, so whether you want to dance or listen to songs with a glass of champagne, we've got something for you!
1. Mariah Carey - Auld Lang Syne (The New Year's Anthem)
"Auld Lang Syne" is the ultimate New Year's Eve song and one of the most prolific songs ever sung. No one can fail to be captivated by the danceable rhythms and powerful vocals of Mariah Carey, the reigning Queen of Pop. Listen to this song as soon as the clock strikes midnight and let her music set the scene for a truly joyful end to the year.
2. Bing Crosby - Let's Start the New Year Right
Bing Crosby's party song is a hit every year. The tune of "Let's Start the New Year Right" is both romantic and optimistic, rivaling Crosby's other holiday season classic, "White Christmas."
3. Taylor Swift - New Year's Day
"New Year's Day" is a pretty, melodic tune pared down with little more than a piano and Swift's beautiful voice and lyrics. Although it's one of the lesser-known ballads from her best-selling album, it deserves an extra listen with a glass of champagne in hand.
4. U2 - New Year's Day
U2's "New Year's Day" is a great rock song that has a place in the history of classic rock. Add it to your party playlist for one of the best New Year's Eve songs and listen to their iconic sound on New Year's Eve.
5. Bon Jovi - New Year's Day
Who wouldn't want some iconic 80s in the NYE mix? The up-tempo beat of "New Year's Day" is the ultimate tune to listen to when you're getting ready to go out or have an impromptu dance party at home.
No one knows what will change when the clock strikes midnight, but on another morning after confetti and cocktails, here's to new beginnings and brighter days ahead.
6. Pink - Raise Your Glass
If New Year's Eve is your time to gather with family and friends, then Pink's "Raise Your Glass" is your anthem for the new year. It's a great dance song that immediately gets you in the mood to toast to the good times and usher in a new beginning with a big bang. No matter where you spend December 31, this song will help cheer you up. Pink Celebration gets your freak flag flying.
7. Jeff Buckley - New Year's Prayer
Part song, part prayer Jeff Buckley has a way to make us feel all the feels. New Year's Prayer feels especially appropriate for the time as the countdown to midnight begins. A simple wish, a great beat and Jeff Buckley's hauntingly beautiful vocals make this a chill New Year's must-listen.
8. Prince - 1999
Prince's voice always incites a feeling of excitement. Despite its age, this song will never get old and will still be a continuation of your NYE celebrations with Prince in the background. With a party-ready chorus and upbeat vibe, his classic song should be on everyone's playlist, whether it's New Year's Eve or not. If the end of the world is inevitable, we might as well go out and dance.
9. The Eagles - Funky New Year
While the Eagles are known for their classic rock sound, they give a funky edge to this holiday song. " Funky New Year" is a fun interpretation of a New Year's Eve song that will take you into the new year and deserves a spot on the New Year's Eve playlist. The song is especially relatable to those who party a little too hard on the last night of the year.
10. Otis Redding and Carla Thomas - New Year's Resolution
Otis Redding is beautifully complemented by Carla Thomas in this classic song.
Party songs are for the midnight knock on the door, and this classic music should always be a part of it. Listen to the vinyl music on your record player to start the countdown.
Comment
Back to Join us at Retrolife.