The Best Christmas Albums on Vinyl
Dec 10,2021 | Retrolife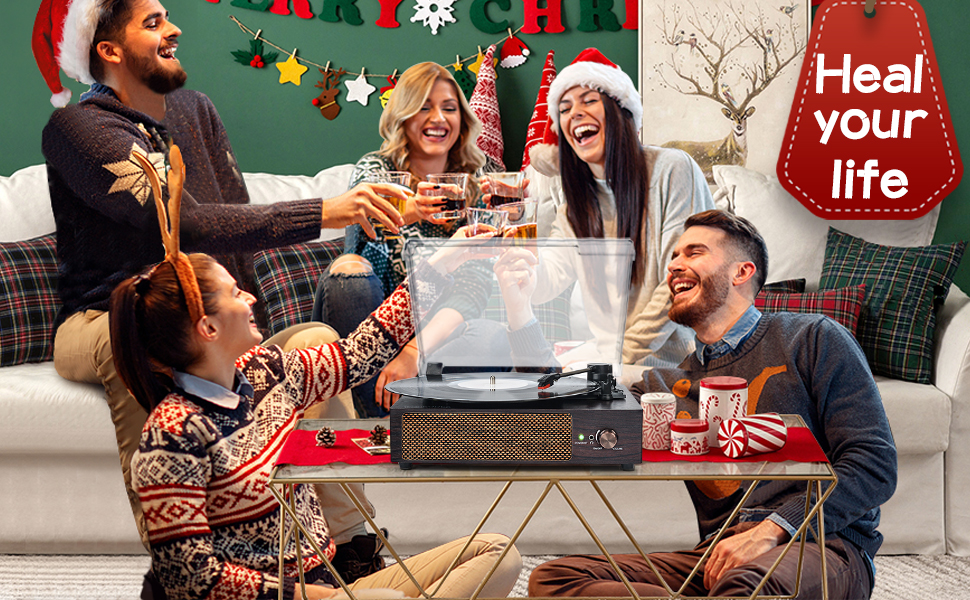 Christmas is coming. The melodies of Christmas songs ring out all over the place. There's nothing quite the warm feeling of hearing a favorite song to usher in the festival. Imagine yourself cozying up on the couch, making a holiday drink, and listening to the rich and smooth Christmas vinyl playing on your record player. However, choosing the best holiday records from a vinyl store can be a tough challenge, as there are so many Christmas albums to choose from that you may feel overwhelmed. Therefore, we have sifted through 10 classic Christmas albums on vinyl for you to see if there is an album for you.
1. Bing Crosby- White Christmas
Bing Crosby's "White Christmas" kicks off the list of best Christmas records. Would you also like this song that never gets old? After all, it's the best-selling single of all time. The deep croon of Crosby's voice singing the holiday ballad immediately takes you inside a picturesque scene of being snowed in with loved ones near a crackling fire.
2. Mariah Carey - Merry Christmas
In 1994, American Pop goddess Mariah Carey released Merry Christmas on red colored vinyl record, which helped revitalize the contemporary pop holiday album. The album is a mixture of originals and fun festive covers. And the song "All I Want For Christmas Is You" is a modern Christmas classic.
3. Sufjan Stevens - Songs for Christmas
In 2006, Sufjan Stevens released the first vinyl record Songs for Christmas as a special holiday gift for music lovers. This is a box set of straightforward Christmas songs between 2001 and 2006, including traditional favorites and impressive hits such as "Sister Winter", "Star of Wonder", and "Get Behind Me, Santa".
4. Elvis Presley - Elvis' Christmas Album
Elvis Presley released one of the best Christmas albums of all time in 1957. The album consists of a multitude of popular Christmas songs, spending four weeks at No. 1 on Billboard's Top Pop Albums chart. It is undoubtedly a wonderful mix of rock and roll classics, guaranteed to get you swinging this Christmas!
5. Johnny Cash - The Christmas Spirit
The Spirit of Christmas is a truly unique Christmas album. With the exception of Blue Christmas and the Little Drummer Boy, it is largely pastoral. You can imagine Johnny sitting quietly by the fire enjoying the simple pleasures of a rural Christmas. The Christmas Spirit is an effective, quiet Christmas album, best listened to at night by the fire.
6. John Legend - A Legendary Christmas
A Legendary Christmas has a very modern and throwback vibe, perfect for listening to with your family at Christmas.
7. The Beach Boys - The Beach Boys Christmas Album
The Beach Boys' Christmas Album is the seventh studio album by the American rock band the Beach Boys, containing five original songs and seven standards on a Christmas theme. The album originally peaked at number six on the Billboard 200 in the year of its release, and eventually went gold. It is considered one of the best holiday albums of the rock era. Whether you know the style or the names of these songs or not, the sounds are timeless enough to be familiar.
8. Various Artists - A Motown Christmas
This collection is sweeter than Kasey's famous Christmas cinnamon rolls. It contains various seasonal singles and album tracks recorded by some of the label's artists from the 1960s and early 1970s. Much of the music had previously been collected on the 1968 UK compilation Merry Christmas from Motown. It's one of the best Christmas albums on vinyl for people to enjoy and is a crowd-pleaser to get everyone in the festive mood.
9. Mannheim Steamroller - Mannheim Steamroller Christmas
Maybe it does sound a little bit like Christmas inside a medieval castle that was renovated to resemble a rocket ship, but Mannheim Steamroller Christmas is chock full of absolute bangers, and it may be the only Christmas album that warrants the use of such a term.
10. Gene Autry - Rudolph The Red-Nosed Reindeer
Gene Autry released this vinyl record in 1957 featuring "America's Favorite Singing Cowboy". This album includes original songs and beautiful Christmas classics, "Winter Wonderland" and "Baby, It's Cold Outside".Every song on this record is an instantly recognizable classic.
Comment
Back to Join us at Retrolife.